What determines the role of members, specifically solar experts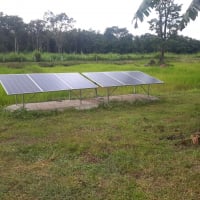 mcgivor
Solar Expert
Posts: 3,854
✭✭✭✭✭✭
There are registered users and solar experts within the forum, what determines the designation as some apparent experts offer bum advice, whilst on the other hand other experts ask basic questions. Not to discredit the real experts who provide valuable information, it would appear it's based on how long the member has been registered, kind of like seniority in a union environment, am I correct in this assumption....just curious  
The rational behind the question is, some may assume the title of expert would imply extensive knowledge, providing information which is accurate, which may not nesesarally be the case. 
1500W, 6× Schutten 250W Poly panels , Schneider MPPT 60 150 CC, Schneider SW 2524 inverter, 400Ah LFP 24V nominal battery with Battery Bodyguard BMS 
Second system 1890W  3 × 300W No name brand poly, 3×330 Sunsolar Poly panels, Morningstar TS 60 PWM controller, no name 2000W inverter 400Ah LFP 24V nominal battery with Daly BMS, used for water pumping and day time air conditioning.  
5Kw Yanmar clone single cylinder air cooled diesel generator for rare emergency charging and welding.