Battery replacement query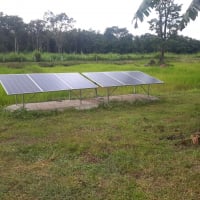 mcgivor
Solar Expert
Posts: 3,854
✭✭✭✭✭✭
Planning for an expansion, a new and larger battery will be needed, so the search for 2 volt cells has led me to 2 sippliers, one carries Trojan and the other Hoppecke. Has anyone had any experience with the Hoppecke? Trojan seems to be quite well documented, sadly other well documented brands eg. Surrette and Concord are not available locally.

Most other suppliers carry monoblock 12V, up to 250Ah, there is of course golf cart batteries but my objective is to get away from the monoblocks. Attached is a pdf of the cells of interest, would appreciate any feedback, thanks.
1500W, 6× Schutten 250W Poly panels , Schneider MPPT 60 150 CC, Schneider SW 2524 inverter, 400Ah LFP 24V nominal battery with Battery Bodyguard BMS 
Second system 1890W  3 × 300W No name brand poly, 3×330 Sunsolar Poly panels, Morningstar TS 60 PWM controller, no name 2000W inverter 400Ah LFP 24V nominal battery with Daly BMS, used for water pumping and day time air conditioning.  
5Kw Yanmar clone single cylinder air cooled diesel generator for rare emergency charging and welding.