Digital multimeters, should we trust them?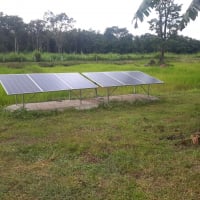 mcgivor
Solar Expert
Posts: 3,854
✭✭✭✭✭✭
During an EQ set to 30.2v, the remote meter of my charge controller read 30.2v at the battery, I grabbed my UEI clamp on and connected it to the battery terminals and it measures 29.98v, so to make sure it was correct I connect a Fluke 179, it reads 30.22v, so I connect all the meters I have, here is the result. The UEI was the cheapest at $120, Fluke 12 $130, Ideal  $220 and the Fluke 179 $350, not sure if it's a case of you get what you pay for but got me wondering what a $20 meter would read. Despite the fact the Ideal reading 30.2 as it only measures tenths, it is still more accurate of a reading. Measuring current, UEI measured 6.55A and Ideal 5.2A , although I've never fully trusted clamp on DC meters and consider the readings a rough estimate, in line is best though impractical.
1500W, 6× Schutten 250W Poly panels , Schneider MPPT 60 150 CC, Schneider SW 2524 inverter, 400Ah LFP 24V nominal battery with Battery Bodyguard BMS 
Second system 1890W  3 × 300W No name brand poly, 3×330 Sunsolar Poly panels, Morningstar TS 60 PWM controller, no name 2000W inverter 400Ah LFP 24V nominal battery with Daly BMS, used for water pumping and day time air conditioning.  
5Kw Yanmar clone single cylinder air cooled diesel generator for rare emergency charging and welding.