Lightning strikes again? Morningstar TS 60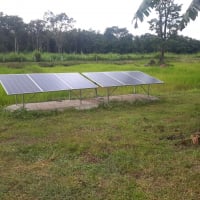 mcgivor
Solar Expert
Posts: 3,854
✭✭✭✭✭✭
Yesterday there was a violent storm which passed through, major lightning, I was not at home so shutting down wasn't an option, but could see the storm move in from where I was 4Km to the south, was on a tractor so no chance of racing home. When I got home the smell of magic smoke filled the room where the controller, Morningstar TS 60, is located, can't say 100% if lightning was the cause but too coincidental to be anything else. The component(s) that vaporized appear th be the diode(s) nearest the solar input positive terminal, SPD didn't help and appears fine?, everything else in the system still functional, the controller was indicating over voltage shutdown, red/green Led's alternating, remote meter blank but still functional with replacement unit,  had a spare on hand, so 30 minutes to get up and running. Last time the inverter got surged and falied, ironically a year ago, May 2017.
1500W, 6× Schutten 250W Poly panels , Schneider MPPT 60 150 CC, Schneider SW 2524 inverter, 400Ah LFP 24V nominal battery with Battery Bodyguard BMS 
Second system 1890W  3 × 300W No name brand poly, 3×330 Sunsolar Poly panels, Morningstar TS 60 PWM controller, no name 2000W inverter 400Ah LFP 24V nominal battery with Daly BMS, used for water pumping and day time air conditioning.  
5Kw Yanmar clone single cylinder air cooled diesel generator for rare emergency charging and welding.