Failure of mc4 connectors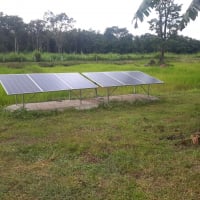 mcgivor
Solar Expert
Posts: 2,419
✭✭✭✭✭
Has anyone come across mc4 connectors which fail to conduct, during my daily system checks I noticed that the current from the array was noticeably lower, a pigtail of different manufacturer to the panel it was connected to, was the culprit, movement made it conduct intermittently, my fix was to remove and make a married soldered splice with heat shrink sleeving.
This left me wondering could this be a more common problem that goes unnoticed.
1500W, 6× Schutten 250W Poly panels , Schneider MPPT 60 150 CC, Schneider SW 2524 inverter, 400Ah LFP 24V nominal battery bank
900W 3 × 300W No name brand Poly panels, Morningstar TS 60 PWM controller, no name 2000W inverter 400Ah FLA 24V nominal as a backup system.
5Kw Yanmar clone single cylinder air cooled diesel generator for rare emergencies and welding.