I need help please. Emergency R&R SI6048
Trukinbear
Registered Users
Posts: 76
✭✭
I've got a problem. I've got an SMA Sunny Island SI6048 that has been replaced under warranty... well, the replacement is here, I've got to do the actual removal and replacement. I really need to be able to R&R this unit with everything else in situ, and will be in the dark for the duration of this process.
It is mounted, hanging on a hook attached to a MidNite Solar backplate with a matching MidNite Solar E-panel below and two MidNite Classic 250V charge controllers to the left. Installation was - the plate went to the wall, the hook (SMA's plate) went to the plate, the SI6048 was hefted (it's 143 pounds) up onto the hook by two really big dudes who don't work for me. Then the E-panel was mounted below the Si-6048 and wired in, along with the 2 charge controllers. Attached to the conduit, to a box, and passthru to the outside panel.
I as you can probably well imagine, don't want to do this in the reverse order unless I really, really have to. I need to figure a way to R&R the SI6048 without removing/unhooking (except the inverter/charger) the E-panel. I asked MidNite Solar (in their forum) and was told they put a 2x6 between the inverter/charger and the E-panel, but I guess they forgot they built this with .5MM clearance minimum and along the sides an average of 1.5MM above what might as well be a knife-edge when you are talking 143# above it - a real finger amputation hazard.
That leaves the two handle-etts up top in the vents, and maybe the front lip of the bottom of the inverter/charger but I'd rather have it hefted into place with the cover on, so scratch that... maybe a nylon strap under it and some D-rings? 
Does anybody have an idea? 
I need help, the clock it ticking for the return of the old unit (still in use) to SMA or I'll owe for the new one - less than 2 weeks left. 
Thanks in advance!
Bear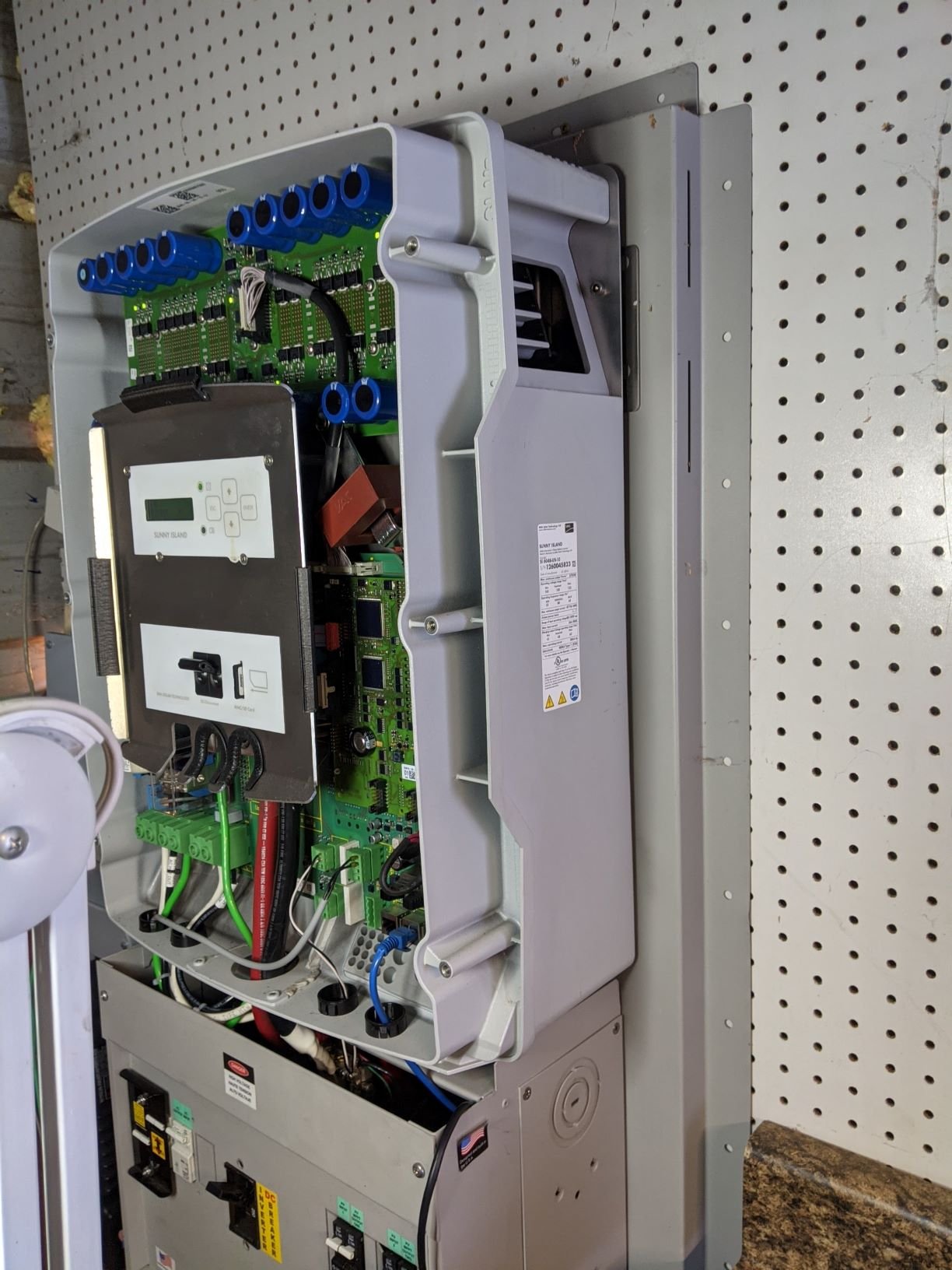 SMA Solar Sunny Island SI6048
JA Solar 330W 'Cypress series' 72 cell panels (18)
MidNite Solar Classic 250 MPPT charge controllers (2)
MidNite Solar MODBUS/Canbus communications adaptor for Sunny Island
MidNite Solar SMA-OG E-panel
MidNite Solar WhizBang Jr current sensor
MidNite Solar MNSPD300V surge protection device (3)
MidNite Solar MNSHUNT 50mv/500A DC shunt
MidNite Solar MNSOB3R-4P PV array shut off box
MidNite Solar Birdhouse 1 RSS initiator
MidNite Solar Battery disconnect module
MidNite Solar Disconnect PSB
Atkinson GSCM mini-i generator start module
Cummins Onan Quiet Diesel QD-8000 8HDKAK diesel inverter generator
Cummins Onan Quiet Diesel QD-3200 3.2HDZAA diesel cycloconverter generator
24-125-11 Monterey Industrial 'Big Sur' 986Ah 48V battery
285-gallon diesel fuel tank
Off the grid on the PNW coast