Schneider Combox Anomalies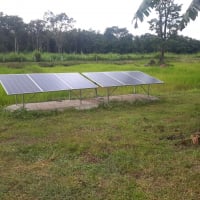 mcgivor
Solar Expert
Posts: 3,854
✭✭✭✭✭✭
Got my Combox up and running, albeit with a few problems which were overcome, one thing soon became obvious was when there is no PV input the real time graphic shows energy going into the battery in direct proportion to what the inverter itself uses ~33W, this is with no loads on the inverter itself, just running, loads are supported by a separate system via an auto transfer switch. This is reflected in the logs overnight as a charging source, not a big deal in the big picture but seems strange.

The second is rather a question than an anomaly, what is the purpose of the Combox dry contact? I was hoping it would be possible to program it to be useful in control, voltage, current, PV input and so forth, but the manual is pretty vague and software shows no such options, that I can see at least.

Any insight? 
1500W, 6× Schutten 250W Poly panels , Schneider MPPT 60 150 CC, Schneider SW 2524 inverter, 400Ah LFP 24V nominal battery with Battery Bodyguard BMS 
Second system 1890W  3 × 300W No name brand poly, 3×330 Sunsolar Poly panels, Morningstar TS 60 PWM controller, no name 2000W inverter 400Ah LFP 24V nominal battery with Daly BMS, used for water pumping and day time air conditioning.  
5Kw Yanmar clone single cylinder air cooled diesel generator for rare emergency charging and welding.