Does humor belong on a forum?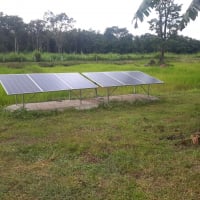 mcgivor
Solar Expert
Posts: 3,274
✭✭✭✭✭
Is humor, which is non political, sexisist, raciest, religious, ethnicity biast, or in any way offense belong on a forum?  Personally I believe there should be some latitude of acceptance, life can't be all serious, we all need a chuckle once in a while. Obviously there are boundaries which should never be crossed, but if it's harmless why not? Understandably some humor may not be appreciated by an international audience, I respect that, but should harmless humor be subject to censorship? I ask that question, your responses to an open question.
[fix typo in tittle, no censorship here--Bill B.
]
1500W, 6× Schutten 250W Poly panels , Schneider MPPT 60 150 CC, Schneider SW 2524 inverter, 400Ah LFP 24V nominal battery bank 
Second system 1890W  3 × 300W No name brand poly, 3×330 Sunsolar Poly panels, Morningstar TS 60 PWM controller, no name 2000W inverter 400Ah FLA 24V nominal used for water pumping and day time air conditioning.  
5Kw Yanmar clone single cylinder air cooled diesel generator for rare emergency charging and welding.