Inverter refrigerators and their interactions with search mode energy conserving DC /AC inverters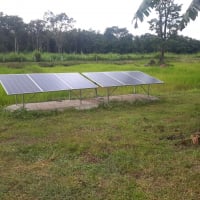 mcgivor
Solar Expert
Posts: 3,854
✭✭✭✭✭✭
A question was recently asked
[email protected]
Parkinson  about the search mode of inverters and their interactions with a LG inverter refrigerator, although mine is a Panasonic the tests I conducted may relate to some/all inverter appliances.
Including others, such as switching transformer led drivers.
The experiment proved, in my case, that the refrigerator would not wake up the inverter even if the wattage was set to its lowest setpoint of 5 watts and the widest pulse of 25 seconds, other settings were tried. At 10 second pulses the interior light remained on at all times, obviously powered by capacitors, at 25 sec. It would turn off momentarily.then the pulse would change the capacitor.
To increase the load I turned on one led light fixture, it just illuminated during the pulse, turning on 4 did nothing no illumination and the inverter remained asleep. Which is a bummer, all these wonderful energy saving devices and they don't work with an energy saving DC/AC inverter
The experiment was using a Schneider SW 2524, so the results may differ with other brands, so for now I'll just program a block invert time say around midnight to 5am, until a solution, which I will come up with, sooner or later, is found. 
1500W, 6× Schutten 250W Poly panels , Schneider MPPT 60 150 CC, Schneider SW 2524 inverter, 400Ah LFP 24V nominal battery with Battery Bodyguard BMS 
Second system 1890W  3 × 300W No name brand poly, 3×330 Sunsolar Poly panels, Morningstar TS 60 PWM controller, no name 2000W inverter 400Ah LFP 24V nominal battery with Daly BMS, used for water pumping and day time air conditioning.  
5Kw Yanmar clone single cylinder air cooled diesel generator for rare emergency charging and welding.