Equalization current for flooded batteries questions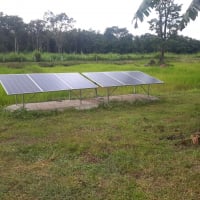 mcgivor
Solar Expert
Posts: 3,854
✭✭✭✭✭✭
Having replaced a Morningstar TS 60 PWM controller with a Schneider 60-150 MPPT, i've noticed during equalization the Schneider has an algorithm completely different from that of the Morningstar. The Schneider has a one hour EQ with a high current, ~25 amps on a 24V nominal 260Ah battery, battery Ah is programed correctly. The Morningstar on the other hand has a 3 hour EQ at a much lower current, usually around 6 amps if memory serves me right. Many say that an elevated voltage with low current is the normal profile. So the question is, does Schneider assume, being a solar charger, there may not be enough hours in the day to fully charge then do an extended EQ of 3 hours, hense the one hour at higher currents and if so could this in fact be detrimental, your thoughts and opinions will be greatly appreciated.
1500W, 6× Schutten 250W Poly panels , Schneider MPPT 60 150 CC, Schneider SW 2524 inverter, 400Ah LFP 24V nominal battery with Battery Bodyguard BMS 
Second system 1890W  3 × 300W No name brand poly, 3×330 Sunsolar Poly panels, Morningstar TS 60 PWM controller, no name 2000W inverter 400Ah LFP 24V nominal battery with Daly BMS, used for water pumping and day time air conditioning.  
5Kw Yanmar clone single cylinder air cooled diesel generator for rare emergency charging and welding.