Frequency Drives, friend or foe? Inverter Refrigerator use off grid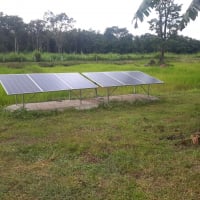 mcgivor
Solar Expert
Posts: 3,854
✭✭✭✭✭✭
The use of inverter appliances off grid is commonly viewed as a God send, lowering inrush current on start up, allowing smaller DC-AC inverters to be used and saving precious battery capacity due to better overall efficiency. On the surface this is true but are there hidden factors that are overlooked, such as the generation of harmonic distortion which possibly could damage equipment?

Whilst tending to battery maintenance the inverter was turned off, upon restoring power, the only AC load, the inverter refrigerator started, the DC-AC inverter had pulses of about 0.5 second duration, very low but audible buzz. This occurs only during the initial start, disappearing when up and running. Nothing unusual can be measured using a DVM (true RMS) on the AC side, voltage remains steady at 230V, no inrush current, 0.6A dropping to0.3A, on the DC side nothing unusual.

Thought it was a little strange and the thought of harmonics came to mind as in the past I have installed frequency drives, sometimes as many as 20 per site, the energy savings were noticeable but transformer overheating became an issue, all the drives were on the 600V side of the transformer the building side was 120/208V. Using a power quality analyzer it was determined that harmonics, 5th, 7th, 11th, 13th, 17th and 19th, were manifesting as heat in the transformer, since harmonics cannot pass through the transformer, the general house loads were not affected.

The other day I plugged in a 500w  microwave, first time, it worked fine, until the refrigerator decided to cycle on. The inverter shut down and restarted, it repeated this, so turned off the microwave and refrigerator ran as normal. The inverter is 24V 2000W surge 4000W, so should have worked, tried a 800W hair dryer and a 500W rice cooker together  no issues, so it would seem the combination of capacitive loads didn't play well with the inverter. Unfortunately I no longer have a power quality analyzer to test but my thoughts are harmonics are a factor, perhaps an isolation transformer would work or just run the refrigerator on its own inverter as I have done so far, albeit a smaller one is planned in the future.


1500W, 6× Schutten 250W Poly panels , Schneider MPPT 60 150 CC, Schneider SW 2524 inverter, 400Ah LFP 24V nominal battery with Battery Bodyguard BMS 
Second system 1890W  3 × 300W No name brand poly, 3×330 Sunsolar Poly panels, Morningstar TS 60 PWM controller, no name 2000W inverter 400Ah LFP 24V nominal battery with Daly BMS, used for water pumping and day time air conditioning.  
5Kw Yanmar clone single cylinder air cooled diesel generator for rare emergency charging and welding.