Lifepo4 replacement quandary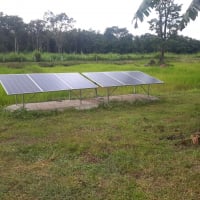 mcgivor
Solar Expert
Posts: 2,401
✭✭✭✭✭
Having spent much time reading posts on LiPo4 batteries, I've come to the conclusion that's the way I want to progress away from LA technology. Reading between the lines it would seem prysmatic cells are the way to go, the search for cells is overwhelming, I've been in contact with suppliers many of whom are willing to sell the cells but have no BMS system designed and or supplied by them, which means an after market BMS, not that that's a problem, it just when something goes wrong each will blame the other for the failure, should it happen. There is one supplier who has an integrated battery with BMS claiming up to 4 series 4 parrallel with their 12V 180 Ah batteries each of which has its own BMS, not sure how that works, here is the link to the supplier
https://www.alibaba.com/product-detail/Polinovel-Latest-HD-12v-24v-180ah_60777826187.html?spm=a2700.galleryofferlist.normalList.11.1cdc65caXXOdg0&s=p
Which way to go is the question. Oh yes China supplier, but when in Asia shop in Asia.
1500W, 6× Schutten 250W Poly panels , Schneider MPPT 60 150 CC, Schneider SW 2524 inverter, 400Ah LFP 24V nominal battery bank
900W 3 × 300W No name brand Poly panels, Morningstar TS 60 PWM controller, no name 2000W inverter 400Ah FLA 24V nominal as a backup system.
5Kw Yanmar clone single cylinder air cooled diesel generator for rare emergencies and welding.