LiPo4 battery selection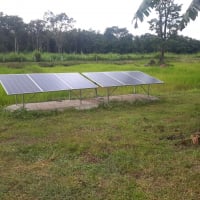 mcgivor
Solar Expert
Posts: 3,854
✭✭✭✭✭✭
Recently I met someone who wants to install a solar system to augment  the unreliable grid which frequently is under voltage as well as being subject to frequent blackouts. He is sold on LiPo4 despite my suggestion of using flooded  LA,  I've offered to help but my experience with LiPo4 is, less than limited. Having read threads of others using these batteries/cells it would appear that prysmatic are the way to go, rather than the so called drop in replacements. Done a fair bit of research and have narrowed it down to a few vendors, the price per Ah/cell is $0.75, so a 100Ah cell would be $75 or fractional  divisions thereof , the one which stands out is a 24V nominal 240Ah, including a BMS self contained in an aluminum box, any thoughts or suggestions would be helpful. The charging/inverter  hardware will most likely be SMA or Schneider due local availability, the capacity will be carefully calculated according to loads, which I'm reasonably well versed, there are so many options regarding cells and capacity, however the primary focus is the inclusion of a BMS, which makes sense, yes/no? This is a link to a possible vendor, I'm in Thailand so logically its reasonable to purchase semi locally for shipping considerations. 
https://www.alibaba.com/product-detail/direct-manufacturer-24V-240Ah-deep-cycle_60703345450.html?spm=a2700.7724838.2017115.189.75021834gGbsEg
1500W, 6× Schutten 250W Poly panels , Schneider MPPT 60 150 CC, Schneider SW 2524 inverter, 400Ah LFP 24V nominal battery with Battery Bodyguard BMS 
Second system 1890W  3 × 300W No name brand poly, 3×330 Sunsolar Poly panels, Morningstar TS 60 PWM controller, no name 2000W inverter 400Ah LFP 24V nominal battery with Daly BMS, used for water pumping and day time air conditioning.  
5Kw Yanmar clone single cylinder air cooled diesel generator for rare emergency charging and welding.