Off grid electric cooking and opportunity loads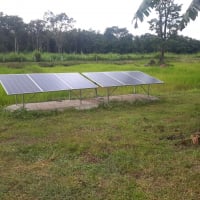 mcgivor
Solar Expert
Posts: 3,854
✭✭✭✭✭✭
Needed to find a way to use excess energy, my system is in float by 11:30 on a good day, the array still has a potential 45A+ with nothing to do but keep the battery on float and power the refrigerator running 6.5A at 24V nominal. Got a water cooler, very handy but not much of a load even with a hot water supply, can only use and drink so much water. As hot water for showers is not needed, hot climate, had to think of alternatives and cooking rice came to mind, we grow about 15 tons each year and is the staple for both humans and animals, 7 dogs consume a lot of rice. So went to buy a large rice cooker but ended up with something much more versatile, a rice cooker,steamer, slow cooker and oven, yes you can bake bread and cakes, see link. This is the most versatile appliances ever for utilizing excess power, the one I have is a 750W 230V, there are smaller 500W available, here's my findings electrically.
The demand is not a constant, initially it draws 750W until the cook temperature is reached, I'll use the slow cooker as an example as it needs more time, once the preheat is complete the unit cycles on for 7 seconds, off for 20 seconds, my observations were achieved using a clamp on ammeter and DVM on the battery side. Even when the sun was going down, the short on cycles, although greater than the array output, were short enough to not pull the controller out of float, sometimes dropping slightly below the 25v threshold but not long enough, 7sec, of the minute required to prompt an absorption-cycle. Over the last week I've attempted to see how much my 1.5KW array can supply, so far the highest is 5.5Kwh in a day, 3Kwh more than regular consumption/production, seems a lot to just throw away, would be significantly more with a constant load but passing clouds could be a problem. So if food is a priority this is a great way to utilize that otherwise wasted energy and although the price here is half of the US price, it would still be a worthwhile consideration.
http://shop.panasonic.com/microwave-and-kitchen/kitchen-appliances/rice-cookers/home-rice-cookers/SR-ZG185.html
1500W, 6× Schutten 250W Poly panels , Schneider MPPT 60 150 CC, Schneider SW 2524 inverter, 400Ah LFP 24V nominal battery with Battery Bodyguard BMS 
Second system 1890W  3 × 300W No name brand poly, 3×330 Sunsolar Poly panels, Morningstar TS 60 PWM controller, no name 2000W inverter 400Ah LFP 24V nominal battery with Daly BMS, used for water pumping and day time air conditioning.  
5Kw Yanmar clone single cylinder air cooled diesel generator for rare emergency charging and welding.