Finally the Texas setup..

ywhic
Solar Expert
Posts: 621
✭✭
Okay.. Made it to Texas after 3 vapor locks on the way from NJ/PA.. had to switch things up and drive at night..
The layout just installed.. DC/Solar on left.. then the Transfer switch.. then the A/C side..
4ga wire down to the buss-bar.. 2ga to the batteries (2 ft).. 3/0 to the Xantrex SW2000..
Got 4 (145w) panels up (in pairs for 24/37v configuration) and concreted to the ground.. and 26' angle per where I am at.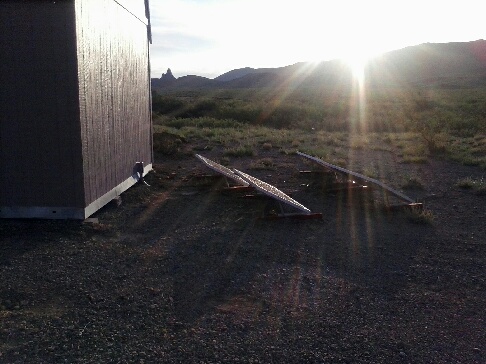 I got these readings.. I spiked at 450-460 per my sons readings. though no pictures..
I set 2 hour absorb and 3 hours max on the Midnite Classic.
Using 2 of the Energizer GC2's from Sams Club 220ah bank.. Nothing running hot..
It runs my new 3.3 cu ft fridge ease.. a box fan.. the Shurflo 4088 (110v water pump) and 13w CFL with ease...
Suggestions or tips welcome..