What is this type of breaker called, and where can I find them?

showme
Registered Users
Posts: 85
✭✭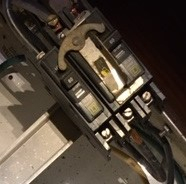 I just got some of the Trace Xantrex SW5548 power panel components out to start testing them for service (I bought this system about 10 years ago from a guy who had only used it a year or so). I've since bought two other SW5548's for a dual system, along with the used one for a back up. Something I didn't think about till now is that the former owner of the power board only used it for a single inverter system, so I've got to round up some extra breakers. Actually, I plan on replacing them all and keeping the old ones for back ups.
What I need to know about is where to find one in particular. It consists of two Square D 60A breakers, a double and single, both are 10KA-120/240V, with a safety toggle lock. I've looked everywhere, but can't find the double with this toggle arm, or one without a double switch. Anybody know where to find these, or if not, how they're constructed? Thanks, Lee

"Knowing is not enough, we must apply. Willing is not enough, we must do."   Goethe
NOS Trace Xantrex power panel, (3) Trace Xantrex SW5548's (2 NOS in boxes, one used), Xantrex DC/disconnect, AC disconnect/conversion, Xantrex T240 Auto transformer, (3) C40 PWM charge controllers, (2 NOS, one used)  8k LG Neon 320w, (8)Evergreen  Solar 120w (960w)  , Bergey XL.1 1.5k genny, AirX 400 genny, 48v Interstate Workman batts (frozen/toast), (2) MT Solar Top of Pole 12's, (2) Midnite Solar MSPV 4 combiner boxes, (2) Midnite Solar Classic 150's and one nice Ozark hilltop to set them all.