Converted Bus/RV Solar Grounding/Bonding
divideoverflow
Registered Users
Posts: 7
✭✭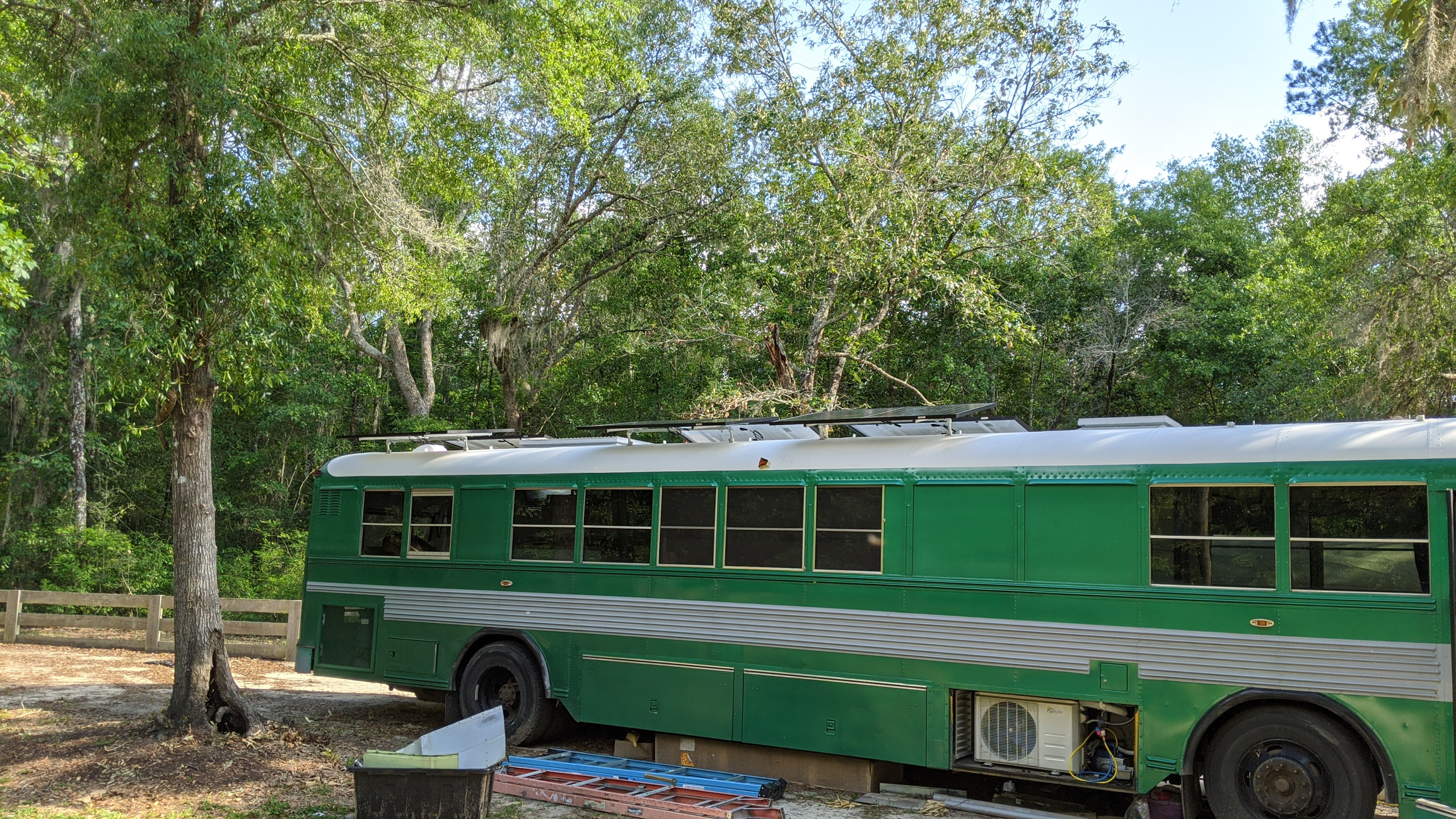 First of all, thank you to Bill (BB.)! On what seems to be the whole of the internet, you are one of two or three people that seem to understand anything about solar grounding as it relates to the NEC, GFDs, and RVs. I'm an electrical engineer (but on the high voltage 69kV+ side), and I felt overwhelmed as I dove into everything going on with my solar design grounding / bonding plans. Your posts have helped tremendously.
Sorry everyone in advance for the long post. It is a struggle to get to the questions without the background so far.
Here is where I'm at, and could use some confirmation or suggestions.
Part 1, DC:
48V battery bank with 4000 watt split phase schneider conext inverter, charge controller, and various switchgear. I'm running a 240v mini split air conditioner so I always need both AC legs hot. 2600 watts of solar made up of four 80V parallel strings.
Charge controller uses the "1 amp fuse connecting battery negative to chassis ground" for it's PV-GFP. I'm aware if this fuse blows than the DC system is floating. I prefer not to have a hard ground from my 48v system to the bus chassis ground, as I worry about my 12V bus electronics (very expensive ECUs and transmission controllers) should I have a major battery fault. Am I over reacting on not wanting them bonded? 
My plan is to have a 2-pole DC breaker for positive and negative PV leads between my combiner box and my charge controller. If the 1 amp GFP fuse blows, it is supposed to shut down the whole system (charge controller, inverter, etc), but doesn't trip any physical breakers. I doubt the PV will provide enough current to pop the 80 amp 2-pole breaker, so it would be more of a manual disconnect. I have individual breakers for each PV string in the combiner box, but only on the positive leads. My wires on the roof will be in non conductive conduit from the panels to the roof entry.
On the battery side (8-12v 190ah AGM Telecom batteries in two strings of four series batteries), I'm putting 400 amp fuses on my positive and negative leads (in each string, as well as after the bus bar where they combine). The battery banks can put out 350 amps for 15 minutes per their rating, and have a short circuit current of 3500 amps, so I felt like 400 amps was a safe number to use. Also, all wire connections are 4/0 on the batteries, and that seems to be the most common fuse size for that wire. The DC switchgear has a 300 amp main breaker to disconnect the batteries, but only has a 1-pole positive breaker. Since DC breakers are directional, it should really only blow for load side faults as it is. Does that seem sufficient for a floating ground bank? I didn't want to go small on the fuses and risk blowing them if I'm using the welder or a hair dryer on startup.
Anything I could do better? I could remove the charge controller gfd fuse and run a separate GFCI device that automatically drops the PV circuits when a ground fault is detected, but that requires a real bond between my DC negative and the chassis.
Part 2: AC Neutral hell.
Schneider hasn't responded to my emails yet regarding how the inverter handles the neutral exactly, but here is what I know:
Inverter defaults to no neutral to ground connection, and expects it from the utility panel. But they give instructions to create the neutral to ground bond at the inverter if desired.
Per schnider FAQ: 
"CSW neutral switches internally to energize transformer for split-phase when inverting, and when supplying 120VAC to L1-N. When operating as charger for 120/240VAC source, the internal neutral relay disconnects from transformer so it operates as stricly 240V charger.
Resolution :  
Be aware CSW has common neutral internally."
So it seems like when AC source is detected, the internal neutral disconnects and let's the utility neutral/ground bond pass through. When there is no AC detected, the inverter gives the neutral reference. 
Ok, so we have the following usage scenarios:
1.Solar and batteries only. Inverter creates L1 and L2 phases, as well as the neutral reference. Currently neutral would be floating in this scenario.
2. Shore power. Neutral is bonded to ground on the utility side. I have separate plugs for 30 amp and 50 amp connections, they are separated on the hot legs via a manual transfer switch. Neutral is not on the switch, so if I plug in shore power, neutral is grounded. When I unplug it, it is floating. 
3. Generator plugged into 30amp recepticle. Currently the generator has no g-n bond, but I could add one.
So the big question: I assume I need to work out a neutral to ground bond to my chassis ground when I'm disconnected from shore power or the generator? My neutral is completely isolated, everything is in conduit. All enclosures and outlets have their ground wires terminate back at the AC switchgear (and Inverter). It seems like a lot of solar installs in RVs end up with floated neutrals... But I am running GFCI breakers in the kitchen and bathroom, I'm assuming they will pop when the chassis ground and neutral diverge?
It sounds like I need yet another transfer switch to choose between my AC inputs (the 50 amp and 30 amp recepticles) and solar only. My inverter 100% does not do neutral to ground bond switching (so says the manual). It is expecting a single use case scenario.
Would making a "ground to neutral bond plug" that just sits in my 50 amp recepticle do the trick? I would have to remove it before plugging in 50 amp shore power (so it wouldn't impact that bond point), and I could leave my small generator floating (it only hooks to the 30 amp recepticle)
Is there a safe way to run a floating neutral? I will run computer equipment off of the inverter, so I'm also concerned about impacts to sensitive electronics.
Thanks for any advice anyone may have! 
(In progress photo)
Tagged: