Do I Need 2 Neutral Wires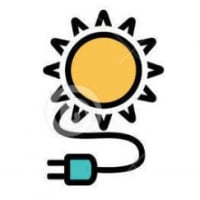 MrM1
Registered Users
Posts: 487
✭✭✭✭
I have a Schneider SW 4024 inverter/charger.  I am not using a generator but instead use Grid power to power the charger of the SW when solar is not available.    The SW has an L1/L2/Neutral Input AND an L1/L2Neutral Output.   At the Inverter I bring all this together with a Midnite Solar E-Panel.  In the  E-Panel both the Input and Output Neutral connect to the same bus bar. 

I am getting power (Input) for the SW Inverter/charger from my main grid panel using 8/3 NM-B with ground.   

My inverter sends power out (Output) to a
Reliance Controls 510C ProTran 2
Toggle Transfer Switch Inverter Load Panel also using 8/3 NM-B with ground.  This allows the Inverter Output on L1/L2 to be toggled between the Inverter power and the grid power.
BUT all the Neutral wires coming and going ultimately connect at the Main Load Panel Neutral Bus Bar inside the Main Load Panel.  And all loads, both Inverter Powered Loads and Grid Powered Loads ALL connect to the same Neutral Bus Bar in the Main Load Panel.    This same Neutral Bus Bar is also connect to the Grid Neutral.   This is the way Reliance Controls wires the 510C transfer switch according to their manual.  The only difference I am doing with the 510c is using an Inverter instead of a generator (which is the 510c's typical usage). And obviously,  generators have no need to have Grid Power Input like the SW Inverter/Charger does.

Questions. 

1. Do I need the Neutral both coming and going  (Input and Output) run from the Midnite Solar E-Panel to the Main Load Panel? 

2. Or can I just use a single Neutral (assuming correct size - I am using #8 for L1/L2 and Neutral) for both Input and Output after the Neutral Leaves the E-Panel? 

3. Would it cause problems to use both a neutral for the power to the SW and power from the SW like in the case of an Input and output using 8/3 NM-B with ground?   (or effectively 2 Neutral wires from/to the same busbar in the Main Grid Load panel and from/to the Midnite Solar E-Panel)
4. Is it best to only use 1 neutral wire,  or include both in the run between the E-Panel and the Main Load Panel?

Note that the Neutral that goes to the 510c Transfer switch does not connect to the 510c it merely passes thru the box via a wire nut connection and does not touch or interact with the 510c transfer switch at all.

See Diagram for how I have it connected now. 

REC TwinPeak 2 285W 3S-3P 2.6kW-STC / 1.9kW-NMOT Array / MN Solar Classic 150 / 2017 Conext SW 4024 Inverter latest firmware / OB PSX-240 Autotransfomer for load balancing / Trojan L16H-AC 435Ah bank 4S connected to Inverter with 7' of 4/0 cable / 24 volt system / Grid-Assist or Backup Solar Generator System Powering 3200Whs Daily / System went Online Oct 2017 /
System, Pics and Discussion