12 Volt vs 24Volt nominal panels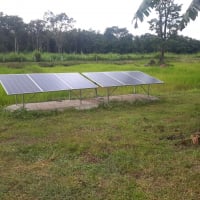 mcgivor
Solar Expert
Posts: 3,555
✭✭✭✭✭✭
Going to build a new system for a friend, it will be a 24V nominal with PWM controller, after doing some research into panel prices, I discovered here in Thailand at least, that there is no difference in price per watt going with 12 or 24 volt panels, they all seem to be in the US. $ 0.85 range for Poly and $ 0.90 for mono regardless of wattage, So the question is which would be the best choice, electricity it wo make no difference, so it would come down to advantage versus disadvantages.

Disadvantages: 12V more panels more series connections, more mounting fasteners  
Advantages: 12V easier to handle, less expensive to replace a damaged panel, 

Disadvantages: 24V more difficult to handle, more expensive to replace a damaged unit
Advantages :24V fewer panels, less mounting hardware, fewer series connections 

From a practical standpoint it would seem using 12V panels may be the way to go, the 60 cell  panels are comparable in price but can't be used with PWM, any thoughts welcome. 
1500W, 6× Schutten 250W Poly panels , Schneider MPPT 60 150 CC, Schneider SW 2524 inverter, 400Ah LFP 24V nominal battery bank 
Second system 1890W  3 × 300W No name brand poly, 3×330 Sunsolar Poly panels, Morningstar TS 60 PWM controller, no name 2000W inverter 400Ah FLA 24V nominal used for water pumping and day time air conditioning.  
5Kw Yanmar clone single cylinder air cooled diesel generator for rare emergency charging and welding.