Battery temperature sensor location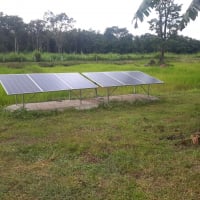 mcgivor
Solar Expert
Posts: 3,667
✭✭✭✭✭✭
 This question has been debated with differing opions,  reason and rationale, below is an excerpt from a Schneider manual, so with one word answers, without need for reasons, just state Terminal or Side
I'm taking a pole of opinions,  thought it would be interesting what the outcome would be.
REMEMBER ONE WORD 
(1) Install the BTS sensor on the battery.
Method (a) involves mounting the sensor to the 
negative battery post which allows the internal 
battery temperature to be sensed providing the 
most accurate results. 
Method (b) attaches the sensor to the side of 
the battery using the self-adhesive backing 
which also provides good results in most 
situations.
1500W, 6× Schutten 250W Poly panels , Schneider MPPT 60 150 CC, Schneider SW 2524 inverter, 400Ah LFP 24V nominal battery with Battery Bodyguard BMS 
Second system 1890W  3 × 300W No name brand poly, 3×330 Sunsolar Poly panels, Morningstar TS 60 PWM controller, no name 2000W inverter 400Ah LFP 24V nominal battery with Daly BMS, used for water pumping and day time air conditioning.  
5Kw Yanmar clone single cylinder air cooled diesel generator for rare emergency charging and welding.