A new improvement on old technology?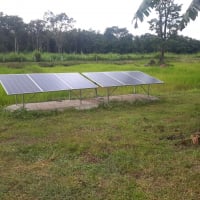 mcgivor
Solar Expert
Posts: 2,505
✭✭✭✭✭
The batteries I'm using are Yuassa EB 130 super light, not sure what that means, but they are flooded and have a glass mat between the plates. Been in service for a year now only require watering, but my question is has anyone heard of this? Can't seem to find any information online in English
1500W, 6× Schutten 250W Poly panels , Schneider MPPT 60 150 CC, Schneider SW 2524 inverter, 400Ah LFP 24V nominal battery bank
900W 3 × 300W No name brand Poly panels, Morningstar TS 60 PWM controller, no name 2000W inverter 400Ah FLA 24V nominal as a backup system.
5Kw Yanmar clone single cylinder air cooled diesel generator for rare emergencies and welding.