LG Chem battery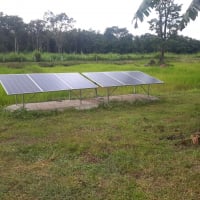 mcgivor
Solar Expert
Posts: 2,499
✭✭✭✭✭
Came across this on an Australian site, much like the Tesla powerwall, retails for less than $ 8k Australian, see pdf.
1500W, 6× Schutten 250W Poly panels , Schneider MPPT 60 150 CC, Schneider SW 2524 inverter, 400Ah LFP 24V nominal battery bank
900W 3 × 300W No name brand Poly panels, Morningstar TS 60 PWM controller, no name 2000W inverter 400Ah FLA 24V nominal as a backup system.
5Kw Yanmar clone single cylinder air cooled diesel generator for rare emergencies and welding.