Lifepo4 BMS without low temperature cut-off for charging, No problem with the right CC..perhaps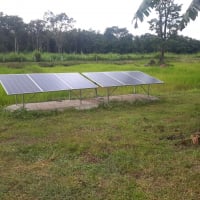 mcgivor
Solar Expert
Posts: 3,815
✭✭✭✭✭✭
The question of finding a BMS with a low temperature cut-off is a common dilemma, whilst thinking about something entirely different, something came to light that may be of interest to others. This is something I've no need for, therefore not tested, but it probably will work, the intent is to plant the seed and hopefully someone will nuture it.

Some of the better charge controllers now have ground fault detection for the PV input, using a fuse that once blown due to a ground fault event renders the controller inactive until such time the ground fault is rectified and the fuse replaced.

The idea is to use an accurate thermal detection device (relay) preferably with an external sensor that can be placed on a cell, or cells. Using a normally closed contact of the relay, run the ground bonding for the controller through the contact, this would simulate a blown fuse when in a low temperature condition has occurred, by opening the contact, thus shutting down the controller. Multiple relays could be utilized to better cover the battery as opposed to a single sensor, all NC contacts in series 

Naturally I understand there will be questions, along with negative feedback as to the legitimacy of doing this, so for the point of discussion let's refer to this as a hack, using something for a function it wasn't initially intended for.
1500W, 6× Schutten 250W Poly panels , Schneider MPPT 60 150 CC, Schneider SW 2524 inverter, 400Ah LFP 24V nominal battery with Battery Bodyguard BMS 
Second system 1890W  3 × 300W No name brand poly, 3×330 Sunsolar Poly panels, Morningstar TS 60 PWM controller, no name 2000W inverter 400Ah LFP 24V nominal battery with Daly BMS, used for water pumping and day time air conditioning.  
5Kw Yanmar clone single cylinder air cooled diesel generator for rare emergency charging and welding.