D cell dilemma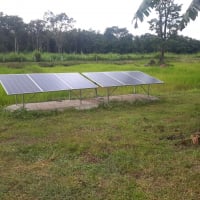 mcgivor
Solar Expert
Posts: 3,817
✭✭✭✭✭✭
My high power Led  flashlight uses 3 D cells, unfortunately the commonly available $0.60 Zinc Carbon cells don't last very long, alkaline ones such as Duracell are expensive in Thailand at $3 each and are marginally better. The rechargeable NiMh or NiCad type don't perform well due to the nominal 1.2v, a loss of 0.9V, this got me thinking about lithium but the cell voltage is too high, but if I was thinking along those lines then others must have done so as well, so I researched and they do exist so I ordered some to evaluate.
Unfortunately they mistakenly sent C type and due to Covid restrictions at the time, I was unable to return them so I simply made an adapter, they are excellent, the light output is constant, as soon as it drops, which is sudden, it's time to recharge. The disposable type gradually drop over time so usually disposed before end of life due to the high demand. The cost was a $26 for 3 so a little over double the Duracell price they last longer and after 3 recharge cycles they will have paid for themselves.  
1500W, 6× Schutten 250W Poly panels , Schneider MPPT 60 150 CC, Schneider SW 2524 inverter, 400Ah LFP 24V nominal battery with Battery Bodyguard BMS 
Second system 1890W  3 × 300W No name brand poly, 3×330 Sunsolar Poly panels, Morningstar TS 60 PWM controller, no name 2000W inverter 400Ah LFP 24V nominal battery with Daly BMS, used for water pumping and day time air conditioning.  
5Kw Yanmar clone single cylinder air cooled diesel generator for rare emergency charging and welding.