Setting that epever up for lithium, what to do with boost/absorb and float voltages.
unexpected
Registered Users
Posts: 30
✭✭
Since I'm getting 2 nissan G1 lithium packs, need some help setting up the tracer AN. I've deduced the following:
Each battery is a 2s2p, 2 of them should give me ~16v and still work with a non 24v+ voc panel.
Empty voltage
2.5v per cell
Nominal
3.75v per cell
Max
4.15v per cell
Knee
3.2v per cell (from users of large banks on youtube)
Operation temperature range -25 ~ 60 ℃ (which i will just program)
So now for the epever, less straight forward. It claims to support lithium but these settings can only be set up from the user parameters in the PC software. I don't know if the "lithium" parameter page settings all even work or what oilengine control is.
Over Voltage Disconnect:
16.6 (4.15)
Over voltage reconnect
16.2 (4.05)
Equalization:
16.4v (4.1)  time 0,disabled
Boost Voltage:
16.4v (4.1) time 0, disabled
Float Voltage:
15.6v (3.9) ??
Boost Reconnect
15.2v (3.8) ??
Charge limit:
16.4v (4.1)
Discharge Limit
12v (3.0)
Low Voltage Disconnect:
12.8v (3.2)
Low Voltage Reconnect
14v (3.5)
Under voltage warning:
13.2v (3.3)
Under volt end
14v (3.5)
That's what I've come up with to get an SOC in the low 90s and discharge to about the knee voltage where current output will drop anyway.
What I don't know is if the float voltage should be lower/higher and if I should be completely disabling the boost/absorb stage. With the time at 0 the controller will charge in bulk to 16.4 and then drop into float, which is hopefully low enough to not stress the cells but still allow the panel to directly drive loads.
Not sure what voltage will bring back the bulk charge unfortunately or if that boost should act as a buffer in between.
Thoughts?
The pages: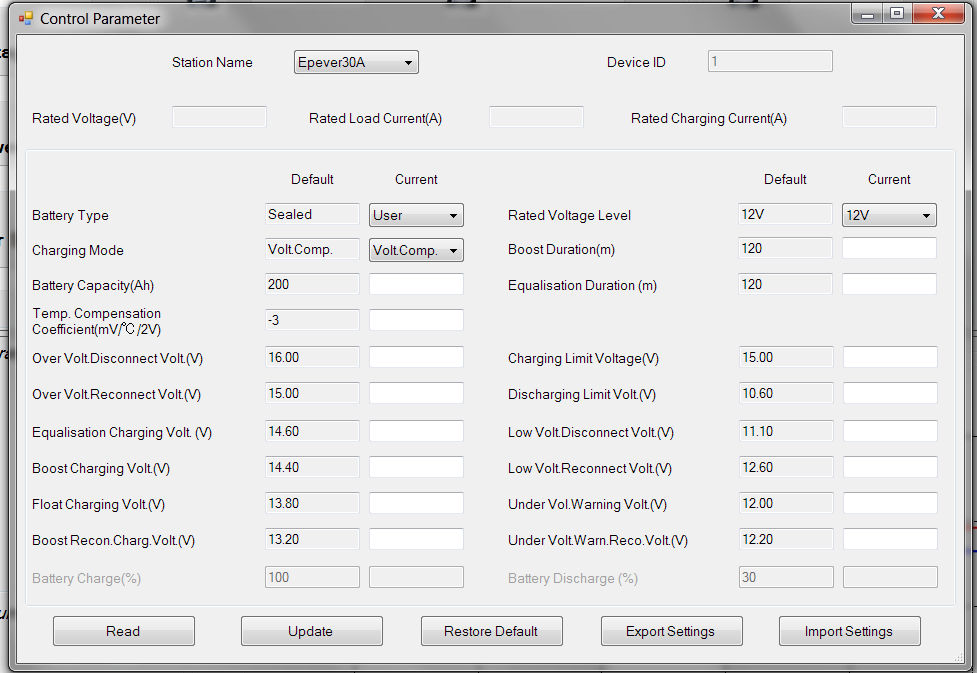 Tagged: