Mini Split installed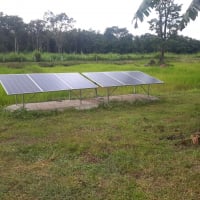 mcgivor
Solar Expert
Posts: 3,602
✭✭✭✭✭✭
Finally satisfied with battery capacity I decided it time to install A/C , searched all models primarily for lowest running wattage this was the lowest available 510W, definitely not the cheapest at US $750 installed, works like a charm, running current varies between 0.8A to 2.6A usually somewhere between, at 230V. The energy guide states annual kwh as 952.78, the figure above that is annual running cost in Thai Baht, the seer rating is really meaningless as there is not much difference in temperature  between seasons,  except a few weeks perhaps, but a rough efficiency guide none the less. Will attach a power logging device when it arrives next week to see exactly how much energy is actually used over the course of a week or so. Must add this is the quietest unit I've ever heard both indoor and outdoor, the batteries should have no problem but the PV may need a couple more panels.
1500W, 6× Schutten 250W Poly panels , Schneider MPPT 60 150 CC, Schneider SW 2524 inverter, 400Ah LFP 24V nominal battery bank 
Second system 1890W  3 × 300W No name brand poly, 3×330 Sunsolar Poly panels, Morningstar TS 60 PWM controller, no name 2000W inverter 400Ah FLA 24V nominal used for water pumping and day time air conditioning.  
5Kw Yanmar clone single cylinder air cooled diesel generator for rare emergency charging and welding.