Instalation up and running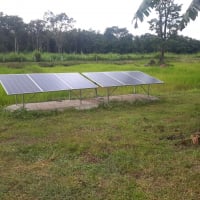 mcgivor
Solar Expert
Posts: 2,423
✭✭✭✭✭
The practical switch from LA to LFP was actually easier than the imagined one, after many months of study, reading comments, both negative and positive, discussion with actual users of DIY systems, I decided to go for it. The primary reason was temperature management of the LA bank which greatly impact the life expectancy especially negatively in my particular case. The top picture is the BMS that actually controls the charging and dischargeing, load negative lower left, charging negative above it, battery negative lower right, having two separate ports allows loads to be drawn whilst fully charged, which was one of the stumbling blocks that needed to be addressed, specifications were sent to a manufacturer who came up with this. Unfortunately there was no means of communication or display. To overcome this I ordered a second BMS which passively monitors the battery using outputs to drive external contactors, I do not use contactors but will use an Omron H3CR timer in a one shot setup when coil power is lost, 0.2W standby load, this will turn the circuit breakers off using a linear actuator, still in progress, a second layer of protection.
To minimize the length of load runs I decided to take advantage of the lower weight by mounting them on a platform, this clears up the floor space as well, 90Kg total. When installed the cells were fully charged, three overcast days later, very low production, the sun returned charging back up to close to 100%, 5.2Kw, since SOC is not an issue there was no need for the generator, which is nice. The past number of days have been spent watching the cell voltages to find a suitable setpoint, the BMS charges to 3.6V per cell which is where I left the controller 28.8 bulk, absorption, float but advice from others say there is no need to aim for 100%, it's now programed at 27.1V which seems to work well, still a work in progress. Temperatures vary 2°C morning to afternoon even with 5Kw worth of charging, the space between cells provides more surface area but it's not that hot right now only 33°C maximum will see later if cooling is nessersary. The one thing about there batteries is there is no long absorption it's bulk all the way to 97% +/- so the amount of time needed is vastly reduced which will help when there are only a few hours of direct sunlight.
So far I'm impressed, they solve many of the issues LA have in terms of performance, temperature management, maintenance (for FLA) and cycle expectancy, the only negative perhaps is complexity, though it's not really complicated. Having safeguards in place is important because if something does go wrong, it's usually in a bad way. Thanks to Simon
@karrak
and Rick
@Raj174
for all your support and guidance your assistance is greatly appreciated.
Ivor
1500W, 6× Schutten 250W Poly panels , Schneider MPPT 60 150 CC, Schneider SW 2524 inverter, 400Ah LFP 24V nominal battery bank
900W 3 × 300W No name brand Poly panels, Morningstar TS 60 PWM controller, no name 2000W inverter 400Ah FLA 24V nominal as a backup system.
5Kw Yanmar clone single cylinder air cooled diesel generator for rare emergencies and welding.