Lithum, Battle Born battery, claims of peformamce and origin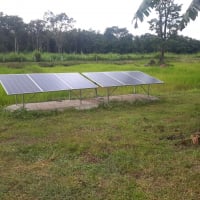 mcgivor
Solar Expert
Posts: 3,854
✭✭✭✭✭✭
Looking into the world of Lithium batteries for possible alternatives to lead acid, the name Battle Born came up in a thread, so I decided to take a look. What stood out was their claim of 3000 cycles at 100% discharge, which goes against documentation from other manufacturers, if in fact they are a manufacturer, or an assembler, they can't seem to make up their mind on that. Other manufacturers provide graphs showing cycles versus DOD, stating greater than 80 -85% shortens the cycle expectancy, additionally they recommend chaging to 95%, which would leave a useful capacity of 75-80%, which is still respectable, but 100% for 3000 cycles ? Others claim >2000 depending upon DOD, discharge current and so forth, their comparison to LA is also confusing, not being able to choose if LA will only provide 150 or 300 cycles....... So at this point I'm a little skeptical, attached is information provided by Battle Born. One needs to open the link and the pdf, to understand the conflict of information.
https://battlebornbatteries.com/
1500W, 6× Schutten 250W Poly panels , Schneider MPPT 60 150 CC, Schneider SW 2524 inverter, 400Ah LFP 24V nominal battery with Battery Bodyguard BMS 
Second system 1890W  3 × 300W No name brand poly, 3×330 Sunsolar Poly panels, Morningstar TS 60 PWM controller, no name 2000W inverter 400Ah LFP 24V nominal battery with Daly BMS, used for water pumping and day time air conditioning.  
5Kw Yanmar clone single cylinder air cooled diesel generator for rare emergency charging and welding.