Grid available finally, now for some options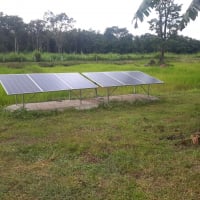 mcgivor
Solar Expert
Posts: 3,854
✭✭✭✭✭✭
A few years back I approached the Provincial Electric Board enquiring about getting the grid to my property, it was possible but at a cost, which was more than going off grid, so that's the way I went. Last week without me knowing, the poles and cables were installed close enough to connect,  just as my new Schneider SW 2524 arrived, thankfully it can be used with enhanced grid support, but unfortunately cannot sell back, which is allowed and encouraged by the utility.
My daily production potential far exceeds useage most days so an XW would have been a better choice but too late now, so this is an idea I came up with.

Split the array, using a minimal amount  to keep the batteries happy with the CC, take the ballance of panels perhaps add a few, feed them into  a GT inverter, whilst feeding the  SW inverter similtaniously, this way I would still be able to use the production and feed the excess into the grid which would offset nightime useage and the batteries will support loads when the grid is down, which is often.

All current components are Schneider with the system control panel, any thoughts would be welcome as I've not dealt with GT to any extent, but theoretically it should work........or not.


1500W, 6× Schutten 250W Poly panels , Schneider MPPT 60 150 CC, Schneider SW 2524 inverter, 400Ah LFP 24V nominal battery with Battery Bodyguard BMS 
Second system 1890W  3 × 300W No name brand poly, 3×330 Sunsolar Poly panels, Morningstar TS 60 PWM controller, no name 2000W inverter 400Ah LFP 24V nominal battery with Daly BMS, used for water pumping and day time air conditioning.  
5Kw Yanmar clone single cylinder air cooled diesel generator for rare emergency charging and welding.