Direct lightning strike, what will the damages be?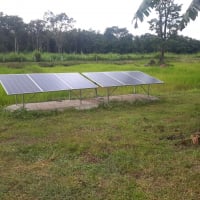 mcgivor
Solar Expert
Posts: 3,555
✭✭✭✭✭✭
Well it had to happen sooner or later, had a direct strike about 5 minutes ago, can't say for sure what was hit but 4 days ago I installed a mast 6 meters high (20 feet) about 10 meters (35 feet) away from the array, consisting of a 2 meter ground rod driven into clay soil and an air terminals mounted on top. Flash bang all over in an instant, it's raining and not going to investigate until morning, so far inverter is dead, that's all I know, was sitting about 10 meters away, just a loud crack and boom with white flash, charge controller still functions on display but who knows what other damage occurred, thankfully have spare components to replace everything should the need be, quite an experience, got me thinking am I attracting lighting or would it just have hit something else, like the wooden structure I was sitting in, about 5 meters high 
1500W, 6× Schutten 250W Poly panels , Schneider MPPT 60 150 CC, Schneider SW 2524 inverter, 400Ah LFP 24V nominal battery bank 
Second system 1890W  3 × 300W No name brand poly, 3×330 Sunsolar Poly panels, Morningstar TS 60 PWM controller, no name 2000W inverter 400Ah FLA 24V nominal used for water pumping and day time air conditioning.  
5Kw Yanmar clone single cylinder air cooled diesel generator for rare emergency charging and welding.