Solar air conditioning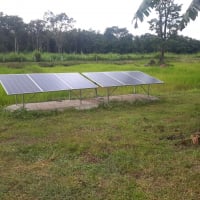 mcgivor
Solar Expert
Posts: 2,422
✭✭✭✭✭
One of my future projects is to install air conditioning to at least the room where I sleep, 35 deg. C at night is less than comfortable. Mini split inverter units are widely available with SEER ratings of 27, but during my search I stumbled across solar assisted AC, has anyone any knowledge or experience with this, seems intriguing especially when off grid. To save time explaining, ive included a link and PDF.
http://www.saveenergyasia.com/solar-air-conditioning/
1500W, 6× Schutten 250W Poly panels , Schneider MPPT 60 150 CC, Schneider SW 2524 inverter, 400Ah LFP 24V nominal battery bank
900W 3 × 300W No name brand Poly panels, Morningstar TS 60 PWM controller, no name 2000W inverter 400Ah FLA 24V nominal as a backup system.
5Kw Yanmar clone single cylinder air cooled diesel generator for rare emergencies and welding.