60 Cell panel VMP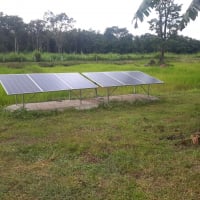 mcgivor
Posts: 2,334
Solar Expert
✭✭✭✭✭
Looking for panels I came across some 250W 60 cell with the following specs.
Manufacturer Zhunyan
Polycrystalline

P max 250W
Voc 43.2V
Isc 7.72A
Vmp 36v
Imp 6.95A
Sys V 1000V
Power Tollerance +/- 3%

What stood out is the Vmp, from all the information I've researched, 60 cell panels are usually in the 30-30.4v range and are not recommended with PWM controllers, but with these? Could be those smaller Chinese volts, watts and amps like the legendary Powe Jack contraption uses, who knows . Google comes up with nothing for Zhunyan.
1500W, 6× Schutten 250W Poly panels , Schneider MPPT 60 150 CC, Schneider SW 2524 inverter, 400Ah LFP 24V nominal battery bank