60 Cell panel VMP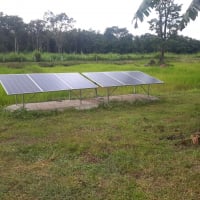 mcgivor
Solar Expert
Posts: 3,854
✭✭✭✭✭✭
Looking for panels I came across some 250W 60 cell with the following specs.
 Manufacturer Zhunyan
 Polycrystalline 

P max                          250W
Voc                               43.2V
Isc                                 7.72A
Vmp                              36v
Imp                                6.95A
Sys V  1000V
Power Tollerance       +/- 3%

What stood out is the Vmp, from all the information I've researched, 60 cell panels are usually in the 30-30.4v range and are not recommended with PWM controllers, but with these? Could be those smaller Chinese volts, watts and amps like the legendary Powe Jack contraption uses, who knows  . Google comes up with nothing for Zhunyan. 
1500W, 6× Schutten 250W Poly panels , Schneider MPPT 60 150 CC, Schneider SW 2524 inverter, 400Ah LFP 24V nominal battery with Battery Bodyguard BMS 
Second system 1890W  3 × 300W No name brand poly, 3×330 Sunsolar Poly panels, Morningstar TS 60 PWM controller, no name 2000W inverter 400Ah LFP 24V nominal battery with Daly BMS, used for water pumping and day time air conditioning.  
5Kw Yanmar clone single cylinder air cooled diesel generator for rare emergency charging and welding.