Washing panels revisited.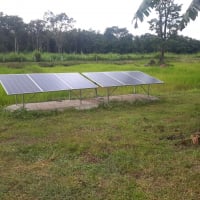 mcgivor
Solar Expert
Posts: 3,854
✭✭✭✭✭✭
Looked back on posts and comments regarding washing panels, there were various opinions on what or what not to use to clean with but nothing with measured performance gains, so today I conducted an experiment to see for myself. Recently there has been an escavator working upwind creating dust which had left a light coating, not enough to see from a distance but visible close up.

Took a current reading before and after each panel was washed using plain water and a sponge/squeegee. Did this in the morning before they are too hot, each panel read 3.4A to 3.6A before washing and post wash measured 4.7A to 4.8A. readings taken 30 second after wash. Took another reading 15 minutes later to confirm the cooling effect didn't skewer the results, the readings were the same as the post wash, so a gain of around 1.1 amps per panel, that is a 30% improvement in peformamce.

One member claimed that anything other than leaves or shadows was negligible and washing was not necessary, I beg to differ, personally I like to put figures behind my claims if possible, hense the experiment. So my opinion is to keep panels clean for best peformamce.
1500W, 6× Schutten 250W Poly panels , Schneider MPPT 60 150 CC, Schneider SW 2524 inverter, 400Ah LFP 24V nominal battery with Battery Bodyguard BMS 
Second system 1890W  3 × 300W No name brand poly, 3×330 Sunsolar Poly panels, Morningstar TS 60 PWM controller, no name 2000W inverter 400Ah LFP 24V nominal battery with Daly BMS, used for water pumping and day time air conditioning.  
5Kw Yanmar clone single cylinder air cooled diesel generator for rare emergency charging and welding.