Battery Bank setup for a Skoolie conversion (with PV to be added later)
AlleyCat67
Registered Users
Posts: 14
✭✭
Hello all,
I have come over from Skoolie.net with a question about battery bank setup to use in my bus conversion.  People there say this is the place to ask about anything PV/power for offgrid use....
Before I go any further, here is the project bus (which I have named Jasmine):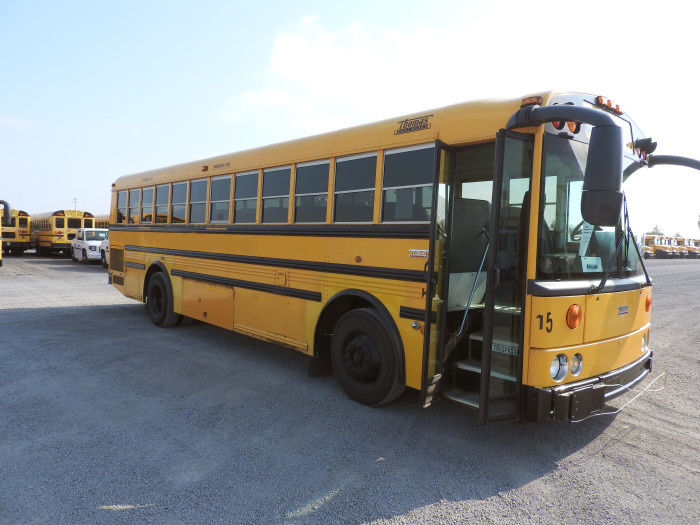 So.... my plan is to use 6 volt 230AH batteries, 2 in series by 6 in parallel, for a 12V/1380AH bank, connected into an AIMS 3000 watt pure sine inverter.  I also intend to use a homebrew 12v generator setup connected into the battery bank to keep it charged up until I can deploy a PV array on the roof of my bus which should have room for 8 panels at a minimum.  I might be able to squeeze 10 on it if I can get small enough panels.
By my calculations I will need a minimum of 825AH of capacity to power my intended loads for the durations I estimate.  With only a 25% depletion before topping off I figure I will have to run my generator at least 2-3x a day to keep the battery bank charged.
So, what I need to know....
My inverter calls for using 4/0 cable from the battery bank to the inverter.  Can I safely use a smaller gauge of wire from each pair of batteries (with appropriate size inline fuse/breaker) from each pair of batteries to inverter?  The table I used specified 4 gauge for the ampacity the line will carry, but going up to 2ga would certainly be doable.  Or, would it be better to connect each pair to a bus bar and run the 4/0 to the inverter in one run, using the inline fuse/breaker on the main line?  The cable run will be short (I intend to have the battery bank inside the bus near the rear, in a compartment vented to the outside).  Also, would the 4ga cable be enough to make the connections between the two batteries in each pair?
Second, I know I will need an MPPT charge controller to connect the panels to the battery bank.  What I don't know is how many watts of panels I will need... and if I can connect them in one large array, or if I will need to split them up into multiple arrays with multiple CC's... but then the battery bank will also need to be split up into two or more arrays, which would mean multiple cable runs to the inverter.  Some quick and dirty math I did a while back indicates that 8 300 watt panels would *probably* be enough but I'm not for sure on that.  I don't want to buy too much panel and have wasted power... likewise I don't want to undersize the array and be having to run the generator to play "catch-up".
The ideal scenario would be to have enough panels to run all my loads and keep the battery charged up to near full capacity at all times to where I only have to run my generator on cloudy days (or if I need to run air conditioning, I know it's a losing battle to try to run A/C off a battery bank).
Oh and also, I intend to mount the panels in such a way that I can angle them for optimum power production capability when parked, but have them snug against the bus roof when traveling.
Any advice would certainly be appreciated.
As a level 1 burglar, Bilbo got a pony when he accompanied the level 60 dwarves on the Smaug the Dragon raid.  Those powerlevelers probably invited him solely so he could trigger fellowship attacks for them.