Inverter 1/2 fried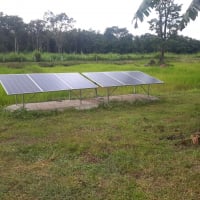 mcgivor
Solar Expert
Posts: 3,854
✭✭✭✭✭✭
My first setback so far, the Cotek SK 2000-224 inverter I purchased a little over a year ago made some arcing sounds and went into fault with a cloud of smoke. As making a warranty claim was complicated, bought in Canada and live in Thailand, decided to open it up and see what happened. Sandwiched between the PC board and a heat sink were the fried remains of a gecko  (small lizard ) the board had a hole burned about 1 cm, tried to repair it but it is double sided and too damaged. Contacted Cotek to see if I could obtain a new board, no luck, they suggested buy a new replacement. Well I never give up that easily, I studied the circuitry and discovered that it was made up of two 1000 watt units stacked so decided to remove the damaged and see if it worked as a 1000 w, sure enough it did so lost half an inverter. Have since tropicalized by covering fan holes and grills with stainless mosquito mesh along with a cheaper replacement I purchased. The things you learn !!! I'm not known as mcgivor for nothing other than my is Ivor, not a technical point per say but interesting none the less.   
1500W, 6× Schutten 250W Poly panels , Schneider MPPT 60 150 CC, Schneider SW 2524 inverter, 400Ah LFP 24V nominal battery with Battery Bodyguard BMS 
Second system 1890W  3 × 300W No name brand poly, 3×330 Sunsolar Poly panels, Morningstar TS 60 PWM controller, no name 2000W inverter 400Ah LFP 24V nominal battery with Daly BMS, used for water pumping and day time air conditioning.  
5Kw Yanmar clone single cylinder air cooled diesel generator for rare emergency charging and welding.