Morningstar SureSine, a unique inverter with some down side.
Brlux
Solar Expert
Posts: 73
✭✭✭
So I know the Morningstar SureSine is a highly regarded inverter for its features, price, extremely high build quality, and unique place in it's market segment. I have a SI-300-115V-UL and I have had a few years to play with and evaluate it. It is no doubt a great sine wave inverter at a reasonable price. One of the things that gives it its unique features it that It seems to be very different topology design than other inverters in it's size category.
From what I have seen playing with and taking apart many inverters is most all modern inverters aside from the really large hard wired power ones designed for running a house like Outback or Trace/Xantrex operate in a similar way. They use a DC-DC step up converter to go from your battery voltage to some high DC like say 150-200VDC. This is done with small transformers at high frequencies like in the 100s of KHZ. This is re rectified to DC and then the second part of the inverter chops that high voltage DC up in to 60Hz AC. This is usually done with a simple H-Bridge in the case of a modified sine wave inverter or something more elaborate in the case of sine wave inverters. They usually don't have good input to output isolation and this makes it so that you don't have a true neutral to ground leg isolated and this is why you can't legally use them in a fixed hard wired installation or more accurately this is why they burn up when people try. The SureSine seems to me to be a very different approach.
I found these pictures of the inside of the device here
. It has a huge toroid transformer that probably accounts for 2/3 the size and weight of the device. Large transformers usually mean low frequency. There is also 2 smaller ones for filtering. It has a few power FETs of some sort and remarkably little other electronics in comparison to other sine wave inverters. My theory is that they are modulating the battery voltage to a 60Hz sine wave for direct up conversion in the toroid transformer. This allows for the isolated output of the transformer to go directly to the load. It seems very effective and surprisingly efficient. It has lower idle current and higher low load efficiency (~75W) than my 150W Samlex PST-15S-12A, Exeltech XP600, and XP1100. I love the fact it is sealed and there is no fan.
So why do I say there is a down side? This approach seems to have a down side in output power regulation and quality. I see high output voltage fluctuation like 115VAC no load 106VAC ~200W load and 99VAC at the maximum load I can get from mine before it wants to trip off, which is about 500W. It is supposed to be rated at 600W for 15 min but I have never been able to achieve anything over 500W that. The biggest shock came when looking at the output on and oscilloscope while running every day devices.
Here is what the output looked like running 68W of compact fluorescent lights. In fairness if you look at the current draw of compact fluorescent they draw nothing till the peak of the voltage wave form and then they draw several amps for a very short duration. But my other inverters seem to be able to handle these loads without distortion.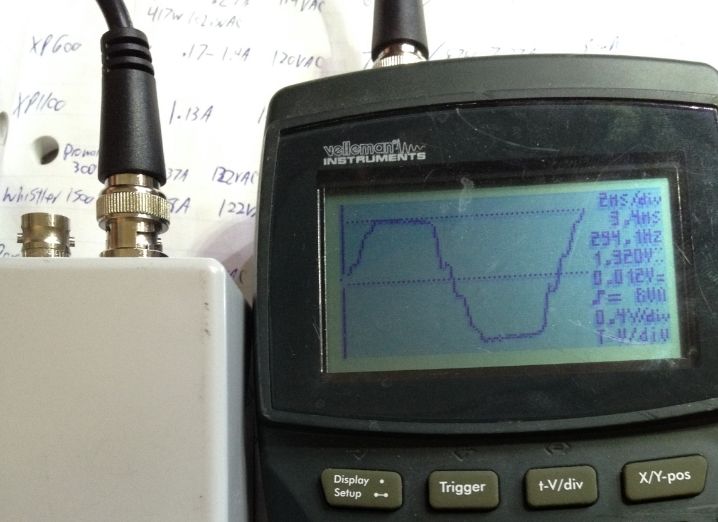 This is what it looked like running my desktop PC with dual monitors, this was about 175W load.
This lack of output regulation really struggles with less than ideal power factor loads especially switching power supplies. Unfortunately these are the types of power supplies found in our sensitive electronics that we want a sine wave inverter for running. In the case of my PC I would have been treating it much nicer with a simple modified sine wave inverter, all those spikes and ripples are hard on the power supply and I am sure there were more there than my simple scope was able to see. I have moved my computer over to the XP600 which does a fantastic job.
I do not write this solely to disparage this unique inverter, I posted this as I could only find glowing reviews of the device and nothing related to this short coming. I do still think it is a good inverter and would be a great choice for driving AC motors loads in the sub 200W range. The motors would run much cooler, last longer and get more output power to electrical consumption efficiency than they would on modified sine wave inverters.