First Year of Our Conext SW Grid Interactive System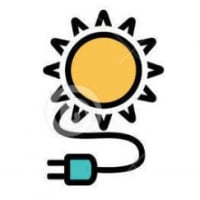 MrM1
Registered Users
Posts: 487
✭✭✭✭
System has been up and running since Oct 15, 2017.   2.6kW Array,   Grid-Interactive Conext SW 4024 Inverter running not connected to the grid the first 9 months and connect grid interactively (CSW AC Support Mode) the past 3 months.  This is NOT a grid-tied system in any way and does NOT sell back to the PoCo.  The system was designed as a 4000 solar generator to do 2 things:
Provide power to home essentials such as lights, fans, fridge, well pump, washer, etc in the event of a power outage
Offset the monthly power bill enough to purchase new batteries every 3-5 years with the PoCo savings
So far in the past year (thru Oct 15, 2018) the system produced 2.25 Megawatts which equals about a $300 savings on our annual power bill.  I expect more in the 2nd year, the first 3 months I was generating only about 60% of my current monthly average.  The 4 Trojan L16 batteries that where purchased costs $1,275.   So my annual power bill savings are on track to pay for new batteries in 4.25 years.  Should be about right if I can keep from destroying the first set.  So far so good.
System over the past year has performed as well or better than expected.  Powers my entire home except for AC and Cloths dryer.   Will power all my needs for about 15 hours plus and would power much longer in a power outage if used moderation turning off the fridge for a few hours from midnite to 8am each day.  (fridge is the largest load at 2500 Wh's per day).
Thanks for all the help over the past year.

REC TwinPeak 2 285W 3S-3P 2.6kW-STC / 1.9kW-NMOT Array / MN Solar Classic 150 / 2017 Conext SW 4024 Inverter latest firmware / OB PSX-240 Autotransfomer for load balancing / Trojan L16H-AC 435Ah bank 4S connected to Inverter with 7' of 4/0 cable / 24 volt system / Grid-Assist or Backup Solar Generator System Powering 3200Whs Daily / System went Online Oct 2017 /
System, Pics and Discussion