WV 17'er Update
dlenox
Solar Expert
Posts: 42
✭
All,
As you may know at the end of April I brought down my 17'er as it was in need of some preventative maintenance. Once down I got caught up in the throws of building and installing my own solar tracker with 720 watts of solar power.
Once the solar project was completed I was able to return my attention to my wind turbine.
I put in a new set of bearings and rear seal, this time using pure white lithium grease. I added about .050" more air gap between the rotors for a total of 1.120".
In addition I also built a new tail vane out of vacume bagged fiberglass composite materials - saving 20lbs on the existing tail vane, which was 3/8" plywood weighing in at slightly over 30lbs, so the new tail vane is about 10lbs. I figure that worst case I can add weight to the tail if it furls too early. Right now the tail is balanced about 3" in front of the leading tip of the tail vane.
I went conservative on adding more air gap as I live in an area that during the winter months we seem to get a lot of wind.
Some of you may also remember that I also had been using a .6ohm 6kw resistor inline with the rectified DC to help overcome a stall condition that I have. This resistor is switchable in/out so it offers me a lot of control, in low to mid wind speeds I switch this resistor in-line, while at higher winds I switch it out.
So about 10 days ago I started accumulating data from the 'new' turbine and am very happy with the results. I wrote up some software to help me profile that data output from my PowerDashboard monitoring/logging software and here are a couple of graphs that show rpm and watts at various wind speeds: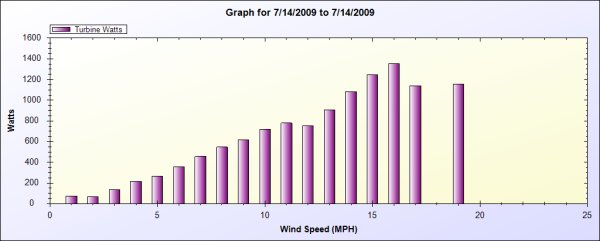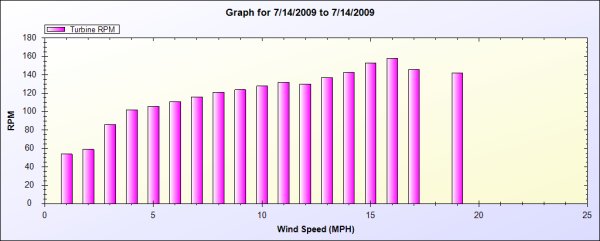 These graphs show the turbine with the .6ohm load resistor in-line. The anemometer that I am using is about 25' lower than the top of the tower so I figure that it is low by 15-20%.
With the new lighter weight tail I've seen it begin furling at about 17mph (realisticly 20mph), however we have yet to have higher winds to allow complete furling.
My goal was to get the rpms up from 125 to 160 at about 16mph winds and I ended up coming pretty close to my goal, I think that the recent modifications have definately improved the turbine output and am pretty happy with the results.
Dan Lenox