Schneider MPPT 60 150 compartment divider - ok to remove/drill through?
jjdh
Registered Users
Posts: 9
✭✭
I have a new MPPT 60 150 charge controller, and I have an already-installed Conext "DC Switchgear". As per the Schneider website and documentation for the Switchgear, these are supposed to be designed to go together.
The way they mount means the charge controller goes on the left of the Switchgear, with matching knockouts on each device and some mounting screws to hold them to each other, all good. The final setup would look something like this:
Here's my problem. The charge controller has a metal separator inside, to keep the PV / Battery DC wiring separated from the signal wiring. Fine. Except.. that divider means there's no path to route wires from the switchgear, through the shared KO: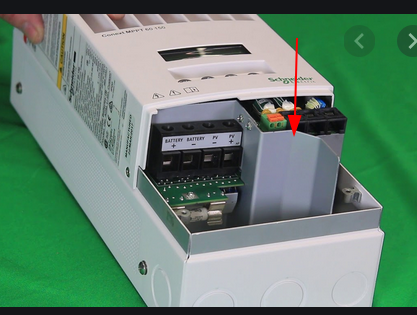 So: Am I gonna need to run separate conduit for the DC wires, or is it ok to remove/drill a hole through the separator?
It seems backwards to me - I thought these products were specifically designed to be mounted like this. In the end, all the wires - both Battery DC and signal wires - go into the switchgear anyway.. I guess there would be a greater risk of interference if they all go through the same small KO than if they enter the switchgear separately?
Tagged: