Mini Split installation charges, are they actually inflated?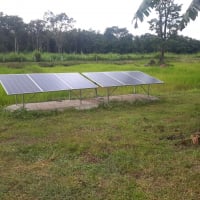 mcgivor
Solar Expert
Posts: 3,854
✭✭✭✭✭✭
To start with, perhaps I'm comparing apples to oranges to some degree, labor costs do vary depending on location.I'm in Thailand
Yesterday I found a Samsung inverter mini split on clearance, the R410a 10 000 BTU making way for the R32 version, the cost including installation, wall mounting bracket, duct for insulated liquid/gas lines was ~$ 450
This is where it gets interesting, today two guys arrived at 2 pm to install the unit, they had it installed in 45 minutes, the evaporator is pre charged with some gas, unknown to me, the compressor is also pre chaged with refrigerant with valves to release it. They attached a vacuum pump to evacuate the lines before releasing the charge, tested the operation, packed up and left, before 3 pm, to move on to their next install.
My question is, what is the average cost of installation of a mini split , above the initial cost of the unit, my research comes with the range of $300 to $1500, with an average of $500 in the USA, if the units are pre charged, the labor involved is dramatically reduced, no charging the system from a tank by weight, is this a realistic figure. Do the charges reflect the actual work involved, or are they based on old methods, or do the rates include travel time.
In my opinion installation should be included in the initial price, with installers on sub contact to the vendor without any hidden fees, it's a more honest business practice.
The same goes when buying a new vehicle here, the sticker price is what is paid, all taxes, PDI is included with no extras, they even include a years premium insurance at no cost including extras, window tint, bed liner, floor mats, door handle garnish, all service for 5 years including lubricants, filters, belts and such at no charge.
Are you getting screwed on the hidden costs? I think so, after over 30 years in Canada I know so, for there at least.
Naturally with all systems there are pros and cons, I could continue but digression would get in the way of the initial question.
1500W, 6× Schutten 250W Poly panels , Schneider MPPT 60 150 CC, Schneider SW 2524 inverter, 400Ah LFP 24V nominal battery with Battery Bodyguard BMS 
Second system 1890W  3 × 300W No name brand poly, 3×330 Sunsolar Poly panels, Morningstar TS 60 PWM controller, no name 2000W inverter 400Ah LFP 24V nominal battery with Daly BMS, used for water pumping and day time air conditioning.  
5Kw Yanmar clone single cylinder air cooled diesel generator for rare emergency charging and welding.