Grundfos SQFlex 1.2-3 running continuously even if tank is empty.
sebax82
Registered Users
Posts: 3
✭
Hello to everyone,
I am writing here looking for some help regarding a water pumping plant installed in Haiti 5 years ago.
We, as volunteers, have 10 solar water pumps (model Grundfos SQFlex 1.2-3
https://s3.amazonaws.com/ecodirect_docs/GRUNDFOS/SQFlex_System.pdf)
installed in parallel within a tank, all connected to the same pipe which goes up to the Mare Rouge town, 140meters above the tank. They are all powered with solar panels, each one of them with an independent string of PV panels.
At the latest and recent visit, we found that all those 10 pumps keep running even if the tank becomes empty, meaning they run even when the dry-run sensor should stop them.
We have no way to explain how they can ALL 10 be continuously working:
- it should not be a defect, as it's unlikely that all 10 pumps have the same defect;
- it should not be due to aging: consider that 1 of them was replaced last year and it also has the issue;
- may it be a short circuit of the dry-run sensor due to environmental conditions? Consider that the tank is closed and water comes in via a pipe connected to the source of water, a few meters above.
Any help would be appreciated. 
Consider that we have only 36 hours to provide a solution as our tech person there will have to leave then. We are in a hurry!
Here is a video showing the plant to give you an idea: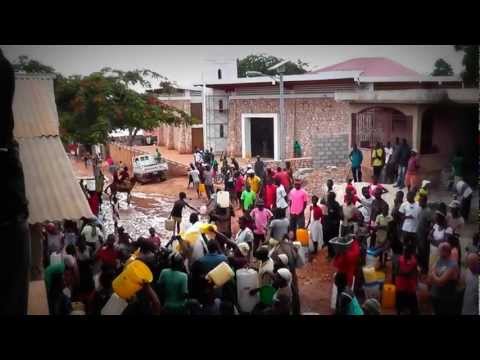 Thank!
Tagged: