Schneider SW fans running constantly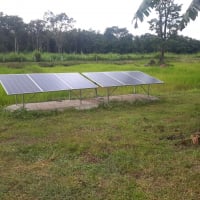 mcgivor
Solar Expert
Posts: 3,854
✭✭✭✭✭✭
Recently I read an old thread regarding the SW inverter charger fans running constantly, from what it appeared the issue was resolved by Schneider confirming there was a glitch and a fix in the form of a firmware update, this was in 2013.

Anyhow it seems the problem has not been solved, even with no load at 24° C ambient they never turn off, 4 hours of no load should be enough. If the inverter is turned off, the fans continue to run for 5 seconds then off, immediate restart the fans remain off and do not come on until a load is applied  < 200W for 1 hour, then the whole thing starts again. The temperature of the exhaust air was the same as ambient. Has anyone had, have or know these issues? Mine is manufactured July 2015, new purchase 2017.
1500W, 6× Schutten 250W Poly panels , Schneider MPPT 60 150 CC, Schneider SW 2524 inverter, 400Ah LFP 24V nominal battery with Battery Bodyguard BMS 
Second system 1890W  3 × 300W No name brand poly, 3×330 Sunsolar Poly panels, Morningstar TS 60 PWM controller, no name 2000W inverter 400Ah LFP 24V nominal battery with Daly BMS, used for water pumping and day time air conditioning.  
5Kw Yanmar clone single cylinder air cooled diesel generator for rare emergency charging and welding.