Contacting the NAWS store for information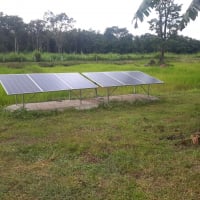 mcgivor
Solar Expert
Posts: 3,815
✭✭✭✭✭✭
Have attempted to contact NAWS sales, both by email and via the contact form on the website. The only reply was via the contact form, stating Please check out our website: www.solar-electric.com
Not much help, can someone shed some light on the best way to make contact.
Thanks in advance.
1500W, 6× Schutten 250W Poly panels , Schneider MPPT 60 150 CC, Schneider SW 2524 inverter, 400Ah LFP 24V nominal battery with Battery Bodyguard BMS 
Second system 1890W  3 × 300W No name brand poly, 3×330 Sunsolar Poly panels, Morningstar TS 60 PWM controller, no name 2000W inverter 400Ah LFP 24V nominal battery with Daly BMS, used for water pumping and day time air conditioning.  
5Kw Yanmar clone single cylinder air cooled diesel generator for rare emergency charging and welding.