Morningstar PWM to Schneider MPPT conversion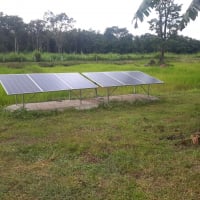 mcgivor
Solar Expert
Posts: 3,495
✭✭✭✭✭
So to begin with I made a fundemental mistake in choosing panels with my initial installation with PWM, chose the cheaper 60 cell panels, only to discover the error of my ways, later on. What the system consisted of was a Morningstar TS 60 PWM  with 6 of the following panels in parallel:

Schutten 250W
VOC   37.75V
ISC     8.98A
VMP  30.2V
IMP    8.3A

Batteries are Yuassa EB 12V 130 Ah, 2 strings of 2  for 260Ah / 24V nominal. Attached pdf for specs.

The system appeared to work fine, but there may have been a period of extreme hot weather when demand was high and I was absent, my suspension  family members ran fans all night for several weeks , evident from logged data, but long story short the battery was heavily discharged for some time but not destroyed. 

Conversion to MPPT, wanted to stay with Morningstar but the local vendor, in Thailand, said there was a minimum order of 2 units, so I looked for an alternative, ending up with Schneider Conext 60 -150 MPPT, for $ 450 shipping included, $200  cheaper if the meter is included  (Morningstar) and to be honest it seems a better CC, based on features and overall construction.

The array was rewired 2 panels series, 3 parallel, used Morningstar string calculator as I can't access Schneider's with an Android tablet, but believe it to be accurate since both are fundementaly the same, so after 3 days here are the findings.

The Schneider is set up using the default setting for flooded batteries, 28.8V bulk and absorbtion and float 27V, exactly the same as the Morningstar. Here is where things are interesting, bulk charging amperage is the same around 25A, the time to reach absorption is about the same, the Schneider however goes into float and reduces the voltage to 27V, temperature compensated, at about the same time as the Morningstar would be at 35% PWM. The Morningstar would hold the voltage at 28.8v until the array could no longer exceed the battery voltage. In fact the only time I ever saw it in float was the first time it was hooked up and performing a commissioning charge. 

Resulting differences, there is a lot less gassing of the batteries at 27V float, my loads never pull it out of float, float is a stranger to me, everything else  seems to be the same, including morning battery voltage at 24.4V, not rested inverter connected, daily Ah  identical, it seems there is no advantage except perhaps  when it gets to above 45°C ambient, but that will be in a month or two. Never needed a generator as even with the PWM  setup it could fully charge on an overcast day, but my suspension it will be better with MPPT due to the higher array voltage.

Any ideas, thoughts or suggestions are most welcome, this is a new language so to speak and the learning curve, although not too steep, is a learning curve none the less.

 
1500W, 6× Schutten 250W Poly panels , Schneider MPPT 60 150 CC, Schneider SW 2524 inverter, 400Ah LFP 24V nominal battery bank 
Second system 1890W  3 × 300W No name brand poly, 3×330 Sunsolar Poly panels, Morningstar TS 60 PWM controller, no name 2000W inverter 400Ah FLA 24V nominal used for water pumping and day time air conditioning.  
5Kw Yanmar clone single cylinder air cooled diesel generator for rare emergency charging and welding.