What to do with the lazy cell in FLA batteries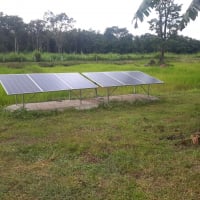 mcgivor
Solar Expert
Posts: 3,439
✭✭✭✭✭
Been off grid for little over a year and so far so good except for a lazy cell which showed up a few days ago during a regular SG test, equalization is sorting the problem out but it's a wait and see process.

During my career in late 1970's as a signals and telecommunications tech we serviced standby batteries, as failure was not an option, any weak cell was replaced (depending  on age or battery)and sent to a service center where it would be replated or if Ni Cd, flushed and new electrolyte installed. Backup  to the backup were Leclanche type safricial cells, just add ware to activate. Of course our option to simply remove and replace comes with financial considerations so we have to improvise.

Personally I'm not a fan of monoblock, if you  lose a cell it takes the others with it, will go to individual cells next time. The experience I gained was with float not cyclical but we checked SG and voltage biweekly at remote sites so a little different to off grid but I habitually test the SG on a weekly basis to keep my finger on the pulse, so to spesk.

Would be great to hear what you seasoned off gridders do, think or suggest.
1500W, 6× Schutten 250W Poly panels , Schneider MPPT 60 150 CC, Schneider SW 2524 inverter, 400Ah LFP 24V nominal battery bank 
Second system 1890W  3 × 300W No name brand poly, 3×330 Sunsolar Poly panels, Morningstar TS 60 PWM controller, no name 2000W inverter 400Ah FLA 24V nominal used for water pumping and day time air conditioning.  
5Kw Yanmar clone single cylinder air cooled diesel generator for rare emergency charging and welding.