Building a Battery Cap Temperature Sensor
Anawa
Solar Expert
Posts: 211
✭✭✭
On another thread in this forum, a primary contributor (blackcherry) shared a design for a device intended to measure battery temperature via a BTS (battery temperature sensor) inserted in a cell battery cap. This solved a major problem for me since I am using forklift batteries that are configurations of 12 individual cells encased in a deep steel shell. Placing the sensor-end of the BTS on top of the cell casing (as I have been doing) or attaching it to the outer steel shell casing (as I was contemplating) was/would render inaccurate readings for my battery charging. This is my first winter season with my batteries and I was experiencing problems getting a solid charge. I'm not sure to what extent the inaccurate battery temp contributed to this, but anything that helps make off-grid maintainence easier, I'm all for it.
I began by studying blackcherry's design with the accompanying comments and looked around my place. I already had an Outback BTS (you know, one of those left-over pieces after you get your toy "completely" assembled) and I began by removing the sensing element from its case. I accomplished this by using a small triangle file to mill down the edges and lifted-off the surrounding plastic. A Dremel would probably work better, but not having one that was operative, the file just required more time and patience.
After studying the configuration of the raw Outback sensing element and the battery cap I proposed to used, I discovered the perfect device to use for the insert. I know just about everyone viewing this forum either has one of these devices, right now, or you had one at some time, or you know exactly where to buy one. It's the reliable el-cheapo squeeze-bulb battery hydrometer with the 3 little floating balls. You use the outer case of the hydrometer for the insert.
I continued to file down the epoxy housing on the sensing unit so it would fit into the squeeze-bulb case and I used a 1/2" drill in the battery cap for the insert. It's a tight fit. 
I measured the depth for the insert, stuck it in the battery cap and re-measured before I cut off the excess. 
Here's the "almost finished" product. I need to fill-in the top with glue or silicone cualk. Going to look around and see what I have available.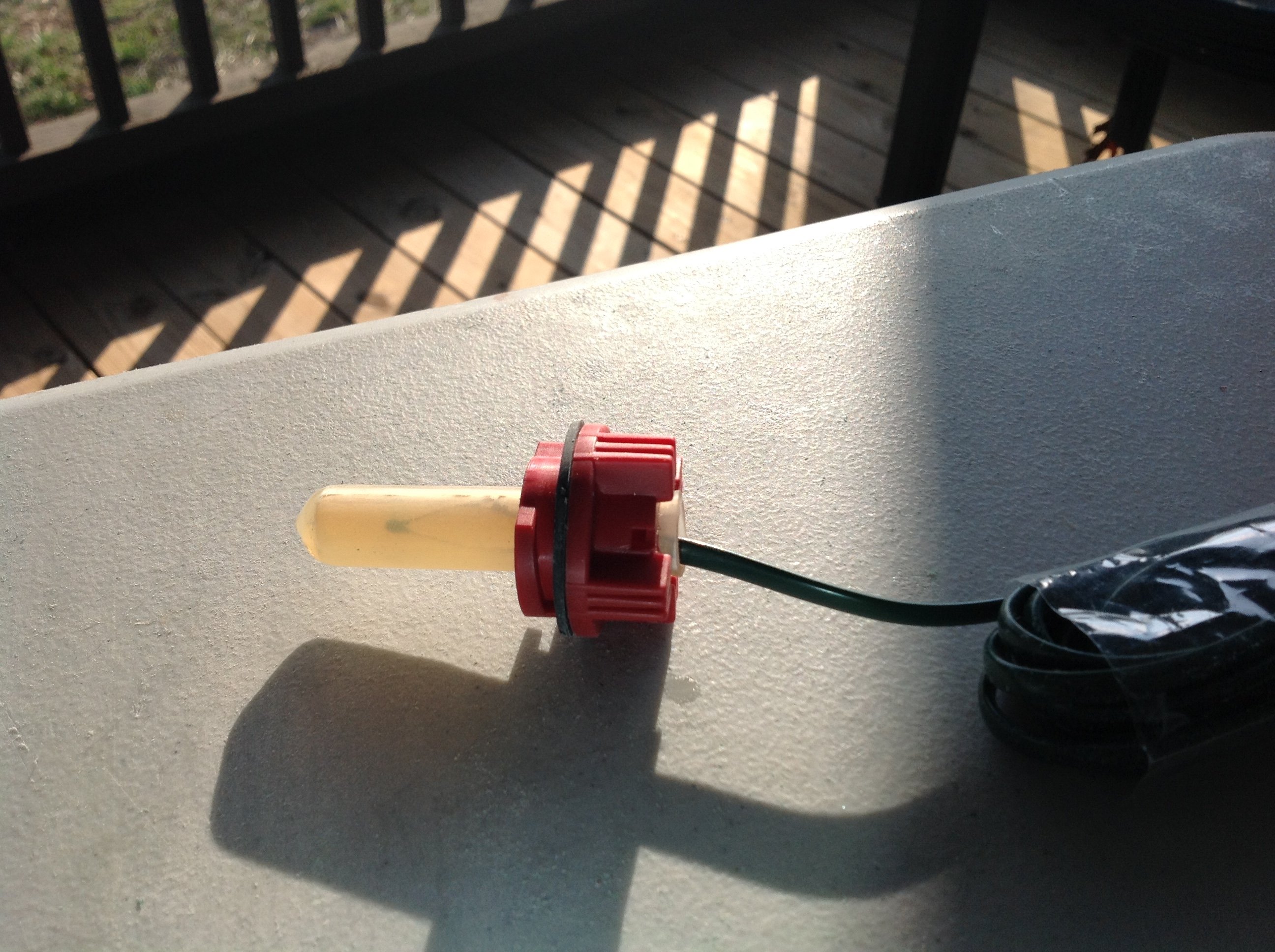 I made this post becuase making this device is not extremely complicated (I was able to do it) and primarily because, the insert device can be so easily obtained and the tools needed are common. And, most importantly, I hope others will benefit from this endeavor.
My sincere thanks to blackcherry.
Paul
in Georgia
Paul 
in Georgia

System 1: PV- 410w Evergreen, Mppt- Blue Sky Solar Boost, Batt - 225ah Deka AGM, 12v led house lighting,
System 2: PV- 215w Kyocera, PWM - Morningstar PS30, Batt- 225ah Deka GC's, 12v led house lighting, Dankoff 12v water pump,
System 3: PV- 1.5kw Kyocera, Grundfos 11 SQF well pump, 3000 gal above ground water storage, dom water & irrigation,
System 4: PV- 6.1kw Kyocera, Mppt- Outback FM80-2ea, Inverter- Outback FX3648-2ea, Batt- 804ah GB traction, Grundfos BMQE booster pump 240v, Mitsibushi mini-splits 240v, 18k and 15k