Adding an Air Conditioner to an off-grid system at a clinic in Haiti
KeithWHare
Solar Expert
Posts: 140
✭✭✭
In 2010, I helped install a solar electric system at a clinic in Haiti, about 10 miles east of Port-Au-Prince.. (See
http://forum.solar-electric.com/discussion/7795/off-grid-system-in-haiti
)
A couple of years later, we added a well and a pump. (See
http://forum.solar-electric.com/discussion/14846/well-pump-at-a-clinic-in-haiti
)
In 2014, we replaced the original batteries. (See
http://forum.solar-electric.com/discussion/21172/update-on-a-pv-system-in-haiti
)
For the next adventure, we are looking at improving the surgery room which means, among other things, adding an air conditioner.
The surgery room is about 13' wide x 23' long x 11' tall for 3289 Cubic Feet. We need to cool it about 10 degrees Fahrenheit from the outside temperature. We need to allow for some air exchange but I'm not yet sure how much.
The electrical system is currently only 120 volt AC so I'm looking at the 120 volt mini-split air conditioners that we've been able to find in Port-Au-Prince. So far, we've found three models that run on approximately 120 volts:
Galanz     AUS-09C61F010L2   9,000 BTUs 
Galanz     AUS-12C61F150L2 12,000 BTUs  
Westpoint WSZ-1211               12,000 BTUs 
Anyone have any experience with any of these units?
What is the power draw likely to be when one of these units starts? Is it the "locked rotor amps" number or something less?
I've attached photos of the data plates for these three units.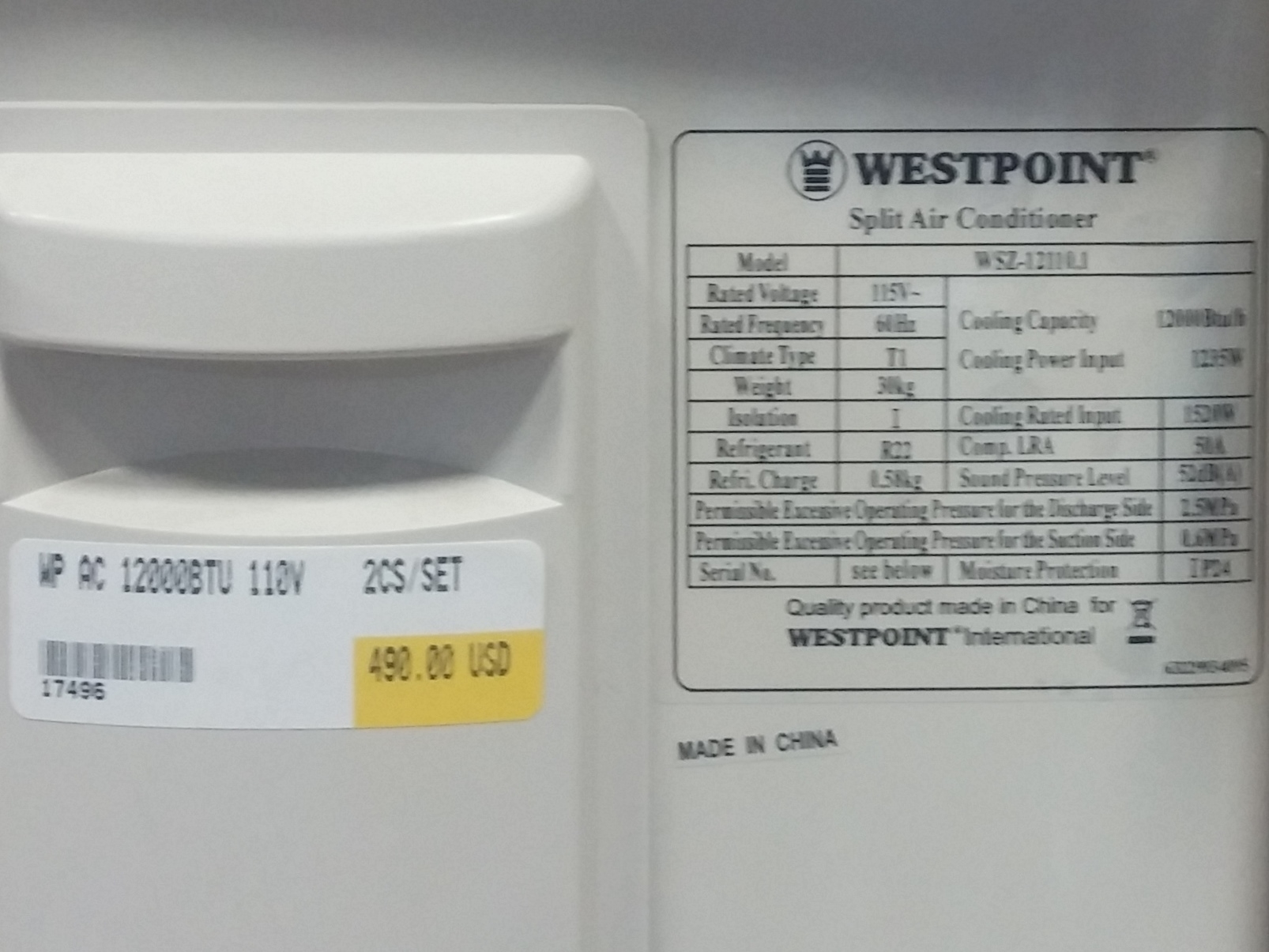 Once I figure out the starting surge, I can figure out how best to support the units.
Keith