Question about inverter-charger and AC coupled offgrid system
Iseethelight
Registered Users
Posts: 1
✭
Hi everyone, I am new in the forum and I wanna ask you the following:
If we have a system like this: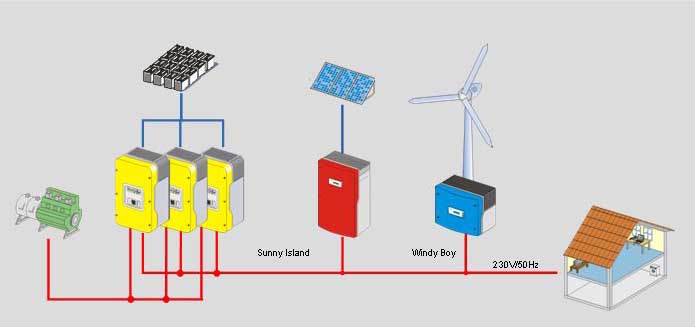 how does the inverter-charger (in this example a Sunny Island) knows
how much power he needs to absorb or feed
? As it is bidirectional and it´s not connected to the rest of components...I read about the active power/frecuency and reactive power/voltage control, (
http://www.microgrids.eu/micro2000/presentations/4.pdf
; page 2 ) but I suppose this only apply with parallel voltage sources like synchronous machines, or another Sunny Island. In this case, Sunny boy and Windy boy work as current sources, right?
Is there any inverter-charger in the market suitable to make an installation of around 50 kW in single phase? Sunny Island is limited to 18 or 24 kW, don´t remember, then it goes to three phase cluster system.
Thank you