Systematic insults to people in general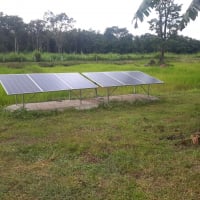 mcgivor
Posts: 2,212
Solar Expert
✭✭✭✭✭
It's probably not best to berate someone publicly, but there has to be a line which should not be crossed, publicly stating a nation SUCKS, on more than one occasion, is unacceptable, the relentless insults on opinions is equally unacceptable, no I'm not a moderator, but if I were.........I'm talking about you
@lumisol
you are a bigot, a self centered egotistical court jester, sitting on the sidelines poking fingers where they ought not belong, your rhetorical comments are not kindly accepted, please refrain or choose another audience who may find your twisted, humor? amusing.
So perhaps I'll get banned for speaking out, so be it. Somebody had to say something.
1500W, 6× Schutten 250W Poly panels , Schneider MPPT 60 150 CC, Schneider SW 2524 inverter, 400Ah LFP 24V nominal battery bank


This discussion has been closed.